Making Room for Diverse Populations in STEM
101 Resources to Help You Improve STEM Engagement at Work and School
The history of science, technology, engineering, and math has not been as entirely straight, male, and white as old textbooks would have you believe.
From George Washington Carver to Katherine Johnson to Alan Turing, the fact is that the people behind a lot of important breakthroughs and hard theoretical work in STEM fields were far more diverse than their eras were willing to recognize.
But these days we celebrate and encourage contributions to STEM universally! Becoming a PhD data scientist isn't something constrained by color, creed, or orientation anymore. Today people of every ethnicity, identity, ability, and sexual orientation are taking the lead in the STEM gold rush.
We've identified public resources custom tailored to the unique needs of many historically marginalized groups. And in today's intersectional world, there's no need to compartmentalize – many people fall into more than one category!
People with disabilities
The LGBTQ+ community
Black, Indigenous, and People of Color (BIPOC)
Women
Individuals with strong religious convictions
Performative gestures just don't cut it anymore. Simply putting a minority face on a stamp and announcing that historically marginalized populations in STEM are on equal footing is more offensive than helpful at this point.
For historically marginalized groups, there are real systemic stumbling blocks when it comes to equitable access to the kind of advanced STEM education offered through data science master's programs, for example. A master's in data science online can make the degree more accessible in the here and now, but by itself, it isn't enough to address the kind of systemic issues of educational equity that put advanced degrees out of reach for so many in the first place.
These aren't issues with easy solutions, but we've got 01100101 ways to help make the obstacles seem a little smaller! … that's 101 for anyone not yet versed in binary code.
Diversity in STEM is Crucial in Today's Global Society
Improving diversity in STEM is an equity issue, and one with social and scientific impacts that go beyond the plight of minority students effectively locked out of high-paying careers. Diversity in perspective, in culture, in experience, are all valuable aspects of scientific and engineering processes. And the absence of that diversity surfaces pretty quickly when STEM companies build products without it.
Developing more angles, more ways to poke holes in theories and improve them, and understanding more about the uses and implications is always of value. And the broader the experiential base of expertise, the more stable the conclusions.
So the more people from diverse backgrounds with, say, a master's in data analytics, the better the overall field of data analysis will be.
Acknowledging the STEM Diversity Problem and Looking For Solutions Takes a Village
True diversity in STEM is a hard lift.
Consider the real plight of people from historically marginalized groups interested in pursuing a business analytics master's online, for example. There are unique challenges for students who attend schools where less funding leads to fewer opportunities for establishing a solid foundation in science and math.
How do you even begin to sort through the challenges to find solutions to those kinds of obstacles?
The theme of 'making room' involves increasing understanding and acting with intention to improve STEM spaces for diverse populations. Specifically, we want to highlight people with disabilities, people from the LGBTQ+ community, BIPOC, Women and a group often overlooked in STEM, those with strong religious convictions.
Going beyond the minimum and seeking to understand, improve and 'make room' will make all the difference in STEM.
People with Disabilities and STEM 
Broadening the Equity Lens for STEM Teacher Education: The Invisibility of Disability
This blog comes from two professionals working at the Metropolitan State University of Denver. It focuses on the trends and inequalities found in STEM teacher education.
Ensuring the Inclusion of People with Disabilities in STEM Education and Careers
Read through this policy to look at ideas for STEM educators. You'll find ways to increase the number of those with disabilities who work in the field.
Advancing Disability Inclusion in the Scientific Workforce
Released in honor of ADA Day, this paper includes statistics on the number of people with disabilities in the scientific community. It focuses on the barriers they face, too.
Look through the resources here to find papers and articles on STEM education as it applies to those with disabilities. You can print any one you want.
Beyond Compliance: Promoting the Success of People with Disabilities in the STEM Workforce
​​Available from the National Academies, this paper goes over how disabilities affect those in the STEM workforce as well as how employers can promote and work with them.
Persons with Disabilities – STEM Engagement and Access
​​Several organizations associated with the National Science Foundation signed this letter to talk about improving access and the engagement of disabled STEM workers and students.
Diversity in STEM Includes Scientists with Disabilities
Becky Ham wrote this article for the Science website to talk about the challenges disabled people felt both in school and once they joined the STEM labor force.
The Invisibility of Students with Disabilities in STEM
Watch this video to hear directly from two students with disabilities about the challenges they faced and their experiences in the STEM field.
Scientists with Disabilities are Indispensable to the Scientific Community but Receive Little Support
Inclusion and diversity are two issues discussed in this article regarding students with disabilities who have an interest in scientific subjects.
Center for Research and Education on Accessible Technology and Experiences
This Center offers resources for anyone with an interest in making technology more accessible. It also allows members to share their experiences with others.
STEM Pipeline for Students with Disabilities: From High School to Intentions to Major in STEM
A doctoral candidate created this dissertation to talk about the best ways to foster STEM interests in students with disabilities at all levels.
Access Needs: Centering Students and Disrupting Ableist Norms in STEM
You can read both the full article and its abstract to see how students can get away from the ableist ideas and views often found in STEM subjects and programs.
Stemming on STEM: A STEM Education Framework for Students with Disabilities
Look over this paper to find out what STEM means and how teachers can foster an interest in those subjects among students with disabilities.
STEM for Everyone: A Mixed Methods Approach to the Conception and Implementation of an Evaluation Process for STEM Education Programs for Students with Disabilities
​​STEM for Everyone looks at some of the mixed approaches to how teachers and schools can create STEM classes for those with disabilities.
STEM is for Everyone: Scientists with Disabilities
Check out this website to see some teachers and other professionals who have disabilities and found success working in one of the common STEM fields.
Statistics and Facts about Students with Disabilities
Find all of the facts and statistics you need to know about students with disabilities in one convenient place on this website.
Increasing Access and Success in the STEM Disciplines: A Model for Supporting the Transition of High School Students with Disabilities into STEM-Related Postsecondary Education
Available from the University of Maine, this paper takes a detailed look at how teachers can help students transition from high school to college.
I'm a Blind Scientist and Inventor. More Disabled Kids Should Have the Opportunities I Had.
Joshua Miele is a scientist with disabilities who shared his experiences with TIME to foster other students who are in similar positions.
Encouraging Students with Disabilities to Pursue STEM Careers
Discover some of the top ways to encourage students with disabilities to look for job opportunities in STEM fields once they graduate in this article.
Students with Learning Disabilities and STEM: Access is Important
Heather Myers uses this article to talk about how others can improve access to STEM fields and careers among students with different disabilities.
This organization promotes inclusion and encourages others to join and gain access to its resources which include pairing them with mentors.
LGBTQ in STEM 
Barbara Moron created a powerful article that discusses whether the scientific community has too many straight people and not enough LGBT+ members.
Five Ways to Support LGBTQ+ People in Science
Find five simple and easy ways to support LGBTQ+ students and professionals with an interest in the STEM field.
Systemic Inequalities for LGBTQ Professionals in STEM
The STEM industry has a small number of LGBTQ professionals. This article looks at the reasons behind this issue and how to fix it.
Why (and How) STEM Curriculum Needs to be LGBT Inclusive
Teachers and others can use this resource to find ways to make STEM subjects more inclusive for LGBTQ students.
Find out more about how you can become an ally to the LGBTQ+ community, especially relating to the STEM industry.
Become one of the more than 1,300 allies who use this site to advocate for LGBTQ+ students and others within STEM fields.
Learn how to celebrate LGBTQ+ STEM Day on this website and find events taking place in your area or nearby.
Coming Out: The Experience of LGBT+ People in STEM
Read through some of the challenges that LGBT+ people faced while studying STEM subjects and working in related fields. 
This organization offers articles and other resources for members as well as programs that promote inclusion within STEM.
Join OSTEM as a student or professional to gain access to all of the available resources such as mentor programs for LGBTQ+ people.
Keeping the LGBQ Community in STEM: A Need for Change in Academic Climate
Joe Grange addresses the reduced rate of LGBQ professionals working in academic fields and what schools can do to fix the problem.
Systemic Inequalities for LGBTQ Professionals in STEM
This academic journal article looks at the inequalities that professionals face in the STEM field when they identify as LGBTQ+.
Promoting LGBTQ Equality in STEM
Find new ways to promote equality within STEM in this article, which includes some ideas you can put into practice.
LGBTQ in STEM: What it's like to be Out
It only takes a few minutes to watch this video and discover from real STEM professionals what it's like to be LGBTQ+ and work in this field.
Is There LGBTQ+ Discrimination in STEM Academia?
By the end of this article, you'll have a better understanding of why STEM academia has a limited number of LGBTQ+ professionals.
Study Indicates Perceived Impact of a STEM Instructor Revealing LGBTQ Identity to Students
This study looks at the experiences that a STEM professional had once he came out to his students and how it changed the way they viewed him.
The statistics found in this article will help anyone who is LGBTQ+ take pride in joining an elite group of professionals within the field.
Examining the STEM Climate for Queer Students with Disabilities
Find out what STEM majors are like for queer students who also have disabilities in this detailed article that reviews current literature.
STEM Inqueery: How Communion and Feminine Gender Expression Affects LGBTQ Individuals Pursuing STEM
A graduate student at the University of North Florida released this paper that looks at how being female and queer affects STEM students.
This organization includes more than 500 scientists and other professionals who shared their experiences about working in STEM fields and being queer.
Maven Youth is an organization that hopes to increase the number of LGBT+ leaders and teachers working in technology and similar fields.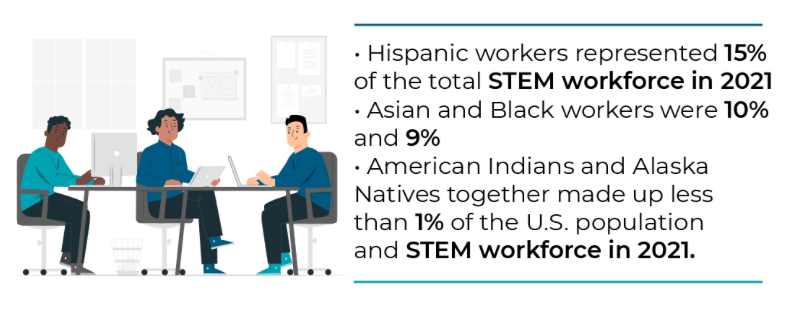 BIPOC in STEM
Guidance or Gatekeeping: An Audit Examination of Racial Discrimination in Leading STEM High Schools
Learn more about a major audit that found signs of discrimination in some of the top high schools in the country with STEM programs.
BUILDing Equity in STEM: A Collaborative Undergraduate Research Program to Increase Achievement of Underserved Community College Students
Find out how some of the leading undergrad programs in the country introduced methods to service BIPOC students in select community areas.
STEM Jobs See Uneven Progress in Increasing Gender, Racial and Ethnic Diversity
This article looks at how the number of BIPOC STEM graduates keeps rising while the number of professionals in the field is on the decline.
Blacks in STEM Jobs are Especially Concerned about Diversity and Discrimination in the Workplace
A group of BIPOC people spoke to the writer of this article about the discrimination and other challenges they faced in STEM workplaces.
Diversity, Equity, and Inclusion in the STEM Workforce
In just a few pages, this site discusses diversity in STEM areas along with the inclusion and equity challenges that professionals face.
Why is it Important to Amplify the Work of BIPOC Scientists, and How Can I Do It?
Check out the links on this page to other resources after reading about how BIPOC scientists can change the face of the industry.
Factors Influencing Participation of Underrepresented Students in STEM Fields: Matched Mentors and Mindsets
This journal article takes a detailed look at how BIPOC students and their mentors face issues in schools today.
Increasing PhD Attainment for BIPOC Students in STEM
Cara Altimu uses this article as a way to address the growing need for BIPOC students in graduate and doctoral STEM programs.
The Represented Collective features a group of professional women who implement programs to advance the needs of BIPOC STEM majors.
High school students in urban areas will find a load of resources on this site along with programs that help them learn more about their STEM interests.
STEM Collections 401: Dissolving Bias
The University of Rochester launched this site to go along with a library project that focuses on how to dissolve the race biases found in STEM fields.
To Be Seen and Heard: The BIPOC Experience in STEM
Read through this article to get a better look at the experiences that one person had as a BIPOC working in a STEM field today.
Improving Underrepresented Minority Student Persistence in STEM
The National Library of Medicine published this journal article to help others find ways to encourage BIPOC students in STEM programs.
How to Actually Promote Diversity in STEM
Two authors came together to publish this article, which focuses on the best ways to promote diversity at all levels in the field.
Engineering & Science Organizations Serving Minoritized Populations
Find a list of organizations for minority STEM students on this website along with descriptions of each one and links to their sites.
Learn why representation matters in this article, which may change the way you feel about STEM fields today.
Reducing Racial Disparities in STEM Grad Programs
Read over this page to find programs and organizations that increase the number of BIPOC STEM majors while also reducing some of the common racial issues.
BIPOC Leaders in STEM: Biographies for Kids
It's never too early to learn about the top BIPOC STEM professionals, which is why this site includes a list of biographies about them just for kids.
SFTS for Girls + Gender Minorities
This organization offers programs for girls and minority students that include pairing them with mentors and giving them access to hands-on experiments.
Latina Undergraduate Students in STEM: The Role of Religious Beliefs and STEM Identity
With a focus on how they use their religious beliefs in STEM fields and classes, this article is a must-read for Latina undergrads.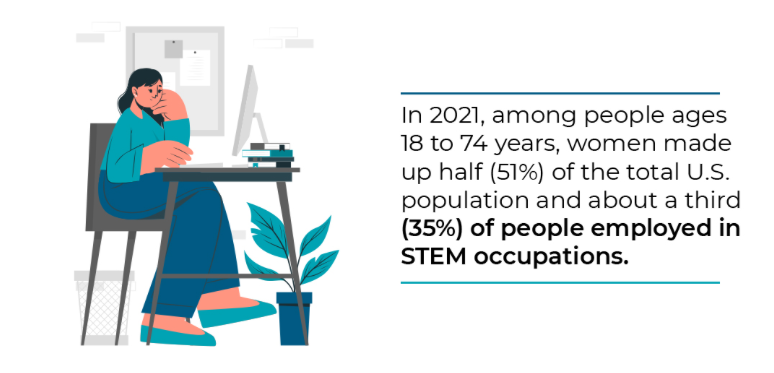 Women in STEM
The STEM Gap: Women and Girls in Science, Technology, Engineering and Mathematics
Learn more about the gap between men and women in STEM fields and what others want to do to include more women.
Creating a Space for Young Women to Explore STEM
The corporate arm of Best Buy looks at why girls and women don't feel comfortable studying STEM subjects and how schools can change this.
Making Room for Women in the Culture of Science
John Travis wrote this article for Science that includes ways the industry can make room for the women who graduate every year.
Women in STEM: A Conversation About Creating Workplaces That Welcome and Inspire Women in a Male-Dominated Field
Hear straight from a group of women who talked about the challenges that women have in modern STEM workplaces.
Discover a list of books for girls on STEM subjects that help them get interested in them and make learning fun.
Making Gains for Women in STEM Fields Will Take More Effort
This article takes a detailed look at the issues that women face in STEM fields and includes some ways they can overcome those problems.
Creating a Safe Space for Women in STEM
The author of this page believes that women working in STEM fields deserve a safe space and goes over some ways to help them.
Cultivating Girls' Growth in STEM
See some of the stereotypes that girls face in STEM fields and what they can do to shatter the glass ceiling that exists.
Opening Doors in Glass Walls for Women in STEM
The glass walls that women see when they attempt to work in the STEM industry are the focus of this article.
Making the Workplace Culture More Welcoming to Women in STEM
Learn how the attitudes toward women in STEM fields shifted in recent years and how employers made open positions more welcoming to them.
Women in STEM Need More Than a Law
An author for Harvard created this article to look at the pressing need for women in STEM with a comparison to a similar problem in the law profession.
Take a look at some of the top women working in STEM today as you learn more about them on this page.
International Day of Women and Girls in Science, February 11
Get ready to celebrate the International Day of Women and Girls in Science, which the UN scheduled for February 11.
The White House launched this site to talk about women in STEM and provide resources for women who want to join them.
Making the Future of the African STEM Female
This in-depth article looks at how employers can welcome and support African females who finish STEM programs.
Women in STEM: Introducing Girls to Engineering
Discovery Place Museum looks at the best ways to empower women engineers and foster the interests of younger girls.
Learn more about tokenism and other gender discrepancies facing women in STEM today.
Retaining Women in STEM Careers: Graduate Students as the Building Blocks of Change
​​Find out what schools and employers can do to support women in graduate programs as they prepare for the future.
How to Attract & Retain More Women in STEM
This article delivers six key points on what STEM programs and employers can do to attract more women.
Women Making Gains in STEM Occupations but Still Underrepresented
The U.S. Census Bureau found that only 27% of the nearly 50% of women working today work in STEM fields and goes over what it means on this site.
Religion, STEM and Understanding
Where Race, Religion and Science Meet
Maryland Today uses this article to talk about the $550,000 grant from the NSF to find programs for African American graduate students.
Major Decisions: Religious Women and Their Perceptions of Women in STEM Majors
This detailed study addresses the perceptions of female STEM majors, especially those who have strong religious backgrounds.
A Bridge Between School and Faith
Both students and their teachers can use this site to find out how schools allow students to use their beliefs as they study scientific subjects.
Can Religion and STEM Go Hand in Hand
Ilse Kremer uses this article to go over current research that shows how STEM and religious beliefs can work together.
Science Builds on Faith: STEM Studies Grow from Catholic Roots
Available from the National Catholic Register, this article discusses the number of students from Catholic schools who study STEM subjects later.
Religious Scientists as a Component of STEM Diversity
The author of this post explains how they use their beliefs while working in STEM and how others can do the same.
The Urgency of Religious and Cultural Science in STEM Education: A Meta Data Analysis
Multiple researchers came together to create this study that looks at how STEM programs can use religious and cultural beliefs.
Christians in Science is an organization of members who are religious and also work in scientific fields with resources for current and future members.
A Faith and Science Teaching Resource: Expanding the Promise for STEM Education
This resource provides teachers with a list of questions they can ask religious students and how to implement their beliefs in their classes.
On the Intersection of Science and Religion
Read through this article from Pew Research to see the connection between faith and science as well as the divide.
Supporting Science: Reasons, Restrictions, and the Role of Religion
Michael S. Evans looks at the restrictions religion has in science fields and how believers can use their faith.
Science Engagement with Faith Communities: Respecting Identity, Culture and Worldview
The Journal of Science Communications released this article that looks at how students and others can respect their religions and cultures as they focus on STEM studies.
Recommending a Child Enter a STEM Career: The Role of Religion
You can read the abstract or get access to the full article to see how religious families can encourage their child's interest in STEM subjects.
Religion Equity in Schools – Protecting Students and Their Civil Rights
This article helps you learn more about what schools now do to protect the religious beliefs of their students as well as promote civil rights.
DEI Toolkit: Religious Beliefs
Use this toolkit to find answers to any religious questions that you have along with links to helpful online resources.
Navigating Religious Beliefs in the Workplace
SHRM created a detailed report that includes tips on how workers and their employers can navigate through the tricky world of religious beliefs.
Creating Space for Religious Diversity at Work
Find some helpful tips on improving the inclusion of your workplace in regard to the religious beliefs of others.
Religion in the Workplace: What Managers Need to Know
Managers and directors will find this page helpful as it goes over what they can do when others have different religious beliefs.
What You Should Know: Workplace Religious Accommodation
The U.S. Equal Opportunity Commission created an FAQ section to go over what employers can and cannot do about religious beliefs.