Best Master's Data Science Programs for 2023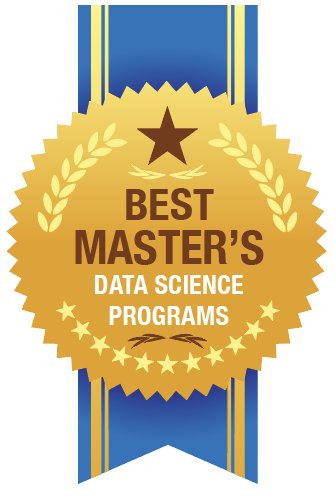 Having a data science skill set is similar to being a jack of all trades. With a data science skill set, you have the tools for just about everything: marketing, biomedical research, logistics, the list goes on and on. Data science skills are an investment of time, money, and energy. But with the top 10% of data scientists earning more than $167,000 annually, you could see a pretty healthy return on investment. All you have to do is find the right degree program.
If you're a mid-career professional looking to add some skills to your repertoire. With a Master's in Data Science, you can learn not just how to collect data, but use it to help your organization meet its goals. You may even find a program geared to your specific background in finance, cybersecurity, and much more.
No matter where you're going or where you're starting from, this list of the best Master's Data Science programs can help you get there.
What Makes These Data Science Programs So Stellar?
These programs are accredited by the nation's leading regional agencies like the Higher Learning Commission, the Middle States Commission on Higher Education, and the Northwest Commission on Colleges and Universities. While each agency has its own standards, they help schools clarify their missions, enhance student resources, and build data science curriculums that elevate students in and out of the classroom. But what does that actually mean?
The data science programs on this list:
Value interdisciplinary learning. Data science is a flexible field made up of computer science, statistics, and mathematical concepts. Many of the programs on this list represent years of interdepartmental collaboration and meticulous curriculum crafting.
Collaborate with research institutions and industry leaders. Some of the programs on this list offer internships, research opportunities, and more through partnerships with government research organizations and well-known data industry leaders.
Are committed to their students' and faculty's research endeavors. Teaching is only one way data science instructors live out their passion for the field. Some conduct research projects in focused fields like natural language processing, economic forecasting, and astronomy. While students may have the chance to work on these exciting projects, many schools offer grants that let students craft their own even at the undergraduate level.
Offer a variety of learning experiences. Core data science skills like data mining and visualization can be taught in the classroom, but many of the schools on this list offer study abroad programs, capstone research experiences, and other hands-on opportunities so students can codify their knowledge with the chance to use it to solve real-world data problems.
Cater to all kinds of students. Some students who pursue data science degrees have strong STEM backgrounds. Others come from different disciplines and need a more introductory education. The programs on this list make up a well-rounded pool of choices.
On top of that outstanding list of traits, the choices on this list represent public, private, on-campus, and online data science programs. So whether you want to pursue a degree while getting a taste of campus life or make time for classes in the middle of an already busy schedule, there might just be a school here that's perfect for you.
The Best Master's Data Science Programs
Jump to Master's Data Science Programs in Your State
California (Private)
University of San Diego (Private)
SHILEY-MARCOS SCHOOL OF ENGINEERING
San Diego, CA
Website
Master of Science in Applied Data Science (MS-ADS) (Online)
Total Estimated Program Cost: $33,300
(Note: The program is online and is available to students residing in all locations except a few restricted states. Due to regulations from the Department of Education, the University of San Diego is unable to enroll students in its online degree programs who reside in Alabama, Arkansas, District of Columbia, Georgia, Iowa, Massachusetts, Minnesota, New Hampshire, Rhode Island, and Wisconsin.)
Program can be completed in 20 months
Introductory courses make this a great program for working professionals and students from other STEM fields.
Students take courses one at a time. For the 2023-2024 school year, there are sessions starting in Fall, Spring and Summer.
As the name implies, USD's MS in Applied Data Science is more about application than theory making it a great choice for students with STEM backgrounds and mid-career professionals alike. In this program, classes are taken one at a time and take about seven weeks each to complete. So when it comes time to dive into advanced topics like deep learning and predictive modeling, students have time to engage with the material before moving onto the next topic. Like on-campus programs, this program includes a collaborative capstone project and gives students access to USD's vast Copley Library and Career Counseling Center.
---
University of the Pacific (Private)
SCHOOL OF ENGINEERING AND COMPUTER SCIENCE
San Francisco, CA
Website
MS in Data Science (Hybrid)
Total Estimated Program Cost: $21,311 (in-state)
(out-of-state per credit rate: $885)
Features a mix of online weekday evening classes and in-person weekend classes.
Can be completed in two years.
During the capstone project, students work with businesses in northern California or Silicon Valley.
While many Master's-level programs focus on the business side of data science, this program is focused on the widely applicable and very technical methodologies behind the field. However, mixed in with classes about Bayesian statistics and time series analysis are more application-based courses on visualization, analytics computing, and research methods. To tie these principles in with their careers, students also take courses dedicated to analyzing case studies in healthcare, finance, manufacturing, and more. With the option to take classes like Fraud Detection and Consumer Analytics, STEM students can learn how to use their scientific know-how in a corporate environment.
---
Colorado (Public)
Colorado School of Mines (Public)
THE GRADUATE SCHOOL AT MINES, DATA SCIENCE DEPARTMENT
Golden, CO
Website
Master's in Data Science (On-campus)
Total Estimated Program Cost: $26,179 (in-state)
(out-of-state per credit rate: $584)
Follows a three-part course structure made up of statistics, computer science, and domain-specific classes.
Also includes a short professional development class sequence.
The school offers 12-credit-hour graduate certificates in specific applications of data science like signals and systems, earth resources, and data analytics. Many of these programs are 100% online.
At this STEM and research-focused school, the Master's Data Science program helps students apply data science skills to the field of their choice. After taking classes about topics like statistical methods and machine learning, students round out their degree by taking classes in one of the school's many other STEM programs. This can include electrical engineering, geophysics, nuclear engineering, and robotics. To hone their professional skills, students also take a short sequence of development classes that teach principles like leadership, oral communication, and research ethics.
---
Connecticut (Public)
University of Connecticut (Public)
THE GRADUATE SCHOOL, DATA SCIENCE DEPARTMENT
Storrs, CT
Website
MS in Data Science (On-campus with a few online elective options)
Total Estimated Program Cost: $22,168 (in-state)
(out-of-state per credit rate: $940)
This 30-credit program takes 11 months to complete but allows part-time students to take longer.
Capstone projects are drawn from real-world data issues faced by UConn's industry partners.
Offers a wide range of domain-specific electives.
While this cohort-based program's core curriculum starts off with a Fundamentals of Data Science class, the material quickly shifts to more advanced material like machine learning, data mining, and research design. But with over 30 speciality electives to choose from, students have the opportunity to apply their knowledge to fields like biology, programming, high-performance computing, and cryptography. However, for students more interested in the theoretical foundations of data science, the program also offers advanced courses in Bayesian machine learning and predictive modeling. This strong application-based curriculum is bolstered by a focus on ethics and teamwork through group-based projects, culminating in a collaborative capstone experience.
---
Florida (Private)
Embry-Riddle Aeronautical University- Daytona Beach (Private)
COMPUTERS AND TECHNOLOGY DEPARTMENT
Daytona Beach, FL
Website
Master of Science in Data Science (On-campus)
Total Estimated Program Cost: $35,923 (in-state)
(out-of-state per credit rate: $1,611)
Features seven industry-focused tracks: human factors, homeland security, high-performance computing, cybersecurity, aviation security, aviation business, and aerospace engineering.
The high-level core curriculum is great for students with STEM undergrad degrees.
Undergrads with non-technical degrees can still enroll by adding prerequisite courses to their studies.
Only 15 of this program's required 30 credit hours is made up of core classes, but with courses like Data Mining and Data-driven Modeling, it's a highly focused curriculum. The rest of students' courses are made up of thesis research classes or take place in one of seven unique domains. While each domain has one required class, they also offer a number of application-based electives. For instance, students in the cybersecurity track can choose between classes such as Penetration Testing, Software Security Assessment, and Applied Cryptography. As an aerospace-focused school, this program could be great for students eyeing careers in aviation.
---
Indiana (Private)
Saint Mary's College (Private)
MATHEMATICS AND COMPUTER SCIENCE DEPARTMENT
Notre Dame, IN
Website
Master of Data Science (Online)
Total Estimated Program Cost: $27,686 (in-state)
(out-of-state per credit rate: $750)
Approved as a Professional Science Masters (PSM) program for its technical, interdisciplinary curriculum.
Classes are entirely online with students making one campus visit each year for the Summer Immersion program.
Takes five to six semesters (about two years) to complete.
Saint Mary's Data Science Master's program is designed to give students an application-based education they can take to any data-driven industry. Even foundational classes about statistics and programming are designed to be hands-on instead of theory-focused. With electives such as Project Management and Data Analytics and Outcomes Improvement, students can learn how to use skills like data mining and visualization as tools to reach organizational goals. Though most of the curriculum is online, students visit the Saint Mary's campus every summer to work with their peers on a data consultation project for a real client.
---
Massachusetts (Private)
Suffolk University (Private)
SAWYER BUSINESS SCHOOL
Boston, MA
Website
Master of Science in Business Analytics (MSBA) (On-campus)
Total Estimated Program Cost: $32,393 (in-state)
(out-of-state per credit rate: $4,080)
Instructors are a blend of data science academics and industry professionals.
Offers a dual degree option so students can combine their MSBA with Master's degrees in organizational leadership, healthcare administration, and more.
Takes a business approach to data science principles.
Suffolk University's data science program is designed to help students become leaders in today's data-driven economy. Along with taking core classes like enterprise data management, predictive analytics, and business intelligence, students can choose from seven concentration areas. There's a statistics-based data science option as well as more industry-specific tracks like fintech, healthcare management, and marketing analytics. However, students don't have to declare a track and can instead tailor their education to their goals with electives like Supply Chain Management and Global Product Innovation. One of this program's biggest strengths is its multiple experiential learning opportunities that include internships, business clinics, and directed individual study programs.
---
Missouri (Private)
Maryville University of Saint Louis (Private)
COLLEGE OF ARTS AND SCIENCES
Town and Country, MO
Website
Master's in Data Science (On-campus and online)
Total Estimated Program Cost: $24,733 (in-state)
(out-of-state per credit rate: $781)
Students can choose from an on-campus or 100% online program.
Also offers graduate certificates in Big Data and Machine Learning.
The project-based curriculum lets students handle real-world data problems for school partners like Allstate, Northwestern Mutual, and the Fireman's Fund Insurance Company.
Instead of building a curriculum based on broad data analysis skills, Maryville's Master's program features separate classes for programming languages like SQL, R, and Python. Students can then build on that strong computer science foundation with classes centered on application-based topics like machine learning and data visualization. After taking those core classes, students can dive deeper into those subjects with advanced classes on artificial intelligence, actuarial science, and robotics. But to prepare students for careers in this dynamic industry, projects and coursework are based on real-world data issues faced by the school's many industry partners. For Master's students, the school's partnerships can lead to internships and research projects that add an important experiential component to this already robust curriculum.
---
New York (Private)
New York University (Private)
CENTER FOR DATA SCIENCE
New York, NY
Website
MS in Data Science (On-campus)
Total Estimated Program Cost: $50,991 (in-state)
(out-of-state per credit rate: $1,493)
This 36-credit program can be completed in two years as a full-time student or five years part-time.
Offers two tracks (data science and biomedical informatics) and two industry concentrations (Big Data and Natural Language Processing)
Capstone projects unite students with one of NYU's many prestigious research labs and partners like Google, Nvidia, Facebook, and Sony.
In and out of the classroom, NYU hosts one of the most comprehensive Master's Data Science programs in the country. Students following the pure data science track can follow up core classes on probability and machine learning with courses on Big Data, math, and natural language processing.  Their biomedical informatics counterparts get an in-depth education in how sophisticated deep learning models can be used in clinical decision-making and health data evaluation. However, students can also opt to enter the industry concentration track that features courses built around the data industry's most pressing and relevant needs. This up-to-date programming is further bolstered by NYU's many research and internship opportunities like the Data Science and Software Services program which funds up to 250 hours of research for qualifying students.
---
Oregon (Private)
Willamette University (Private)
COMPUTING AND DATA SCIENCE DEPARTMENT
Portland and Salem, OR
Website
Master's in Data Science (On-campus)
Total Estimated Program Cost: $37,400 (in-state)
(out-of-state per credit rate: $1,922)
Can be completed in one year or in two years as a part-time student.
To facilitate internships and working students, classes are held on weeknights.
Includes a capstone project that partners students with local organizations.
With an evening schedule and no GRE or GMAT requirements, Willamette University's MS Data Science program could be ideal for working students and professionals looking to broaden their horizons. Its streamlined format is built around just five classes that cover practical applications of data science like visualization, data management, machine learning, and ethics. These classes, along with domain-specific electives covering topics like cybersecurity and marketing analytics, blend hands-on learning with relevant case study analysis. To put this knowledge to the test, every student is required to complete a capstone project with a local industry partner.
---
Pennsylvania (Private)
Cabrini University (Private)
SCHOOL OF BUSINESS, EDUCATION, AND PROFESSIONAL STUDIES
Radnor, PA
Website
Master of Science in Data Science (Online)
Total Estimated Program Cost: $21,387 (in-state)
(out-of-state per credit rate: $830)
A 100% online 36-hour program designed to be completed in two years.
Features small class sizes.
Curriculum includes a capstone project or internship.
This totally online program covers the intersection of business administration, data science, and programming. While courses like Introduction to Project Management teach students how to lead tech initiatives on a large scale, the curriculum also covers a number of specific methods and data analysis tools. For instance, business analytics coursework helps students become proficient with Tableau while data warehousing classes give them experience with Hadoop. However, this program also includes a computer science component by giving students the opportunity to learn programming languages like R, SQL, and Python. Add in a hands-on capstone or internship for a data science program that can turn STEM students into not just proficient professionals, but innovative leaders.
---
Juniata College (Private)
DATA SCIENCE DEPARTMENT
Huntingdon, PA
Website
Master of Data Science (Online)
Total Estimated Program Cost: $21,388 (in-state)
(out-of-state per credit rate: $1,078.90)
A 30 to 32-credit program with 13 to 15-week courses.
Features an optional once-per-semester cohort and software setup bootcamp
Rolling admissions mean students can apply to this program at any time.
Taught by faculty from the IT, Computer Science, and Mathematics Departments, Juniata's MS Data Science program is a collaborative, interdisciplinary endeavor. In core classes, students learn about different machine learning algorithms and visualization techniques while also practicing how to identify patterns in large data sets. Students can then use these techniques and tools in an array of electives covering domains like bioinformatics, Big Data, and environmental genomics. With such a well-rounded and comprehensive online curriculum, this program is unique in that students from diverse academic backgrounds can enroll without taking on extra introductory courses.
---
Rhode Island (Private)
Brown University (Private)
BROWN DATA SCIENCE INITIATIVE
Providence, RI
Website
Master of Science, ScM (On-campus)
Total Estimated Program Cost: $25,028 (in-state)
(out-of-state per credit rate: $474)
Can be completed in 9, 12, 16, 21, or 24 months
Brown's large data science research initiative means students can receive grants of up to $25,000 for exploratory projects and $60,000 for large, multi-departmental projects.
Hosts a number of student engagement opportunities like reading groups, TA positions, and workshops tailored to specific data science skills.
Brown's Master's Data Science curriculum is only made up of eight classes (plus an elective from another discipline), but each one offers an in-depth exploration of the field. The Hands-on Data Science class, for example, teaches students about everything from what to do with incomplete data sets to Python programming. In Data Management, students learn how to manage, store, and interact with data with industry-favorite tools like Hadoop and query languages like SQL. In between are more topic-driven classes on subjects like machine learning theory and data ethics. Like other programs, Brown requires a data science practicum, internship, or research project, but with the school's 10 research institutes and large PhD program, grad students have plenty of innovators and resources at their disposal.
---
Virginia (Private)
Marymount University (Private)
COLLEGE OF BUSINESS, INNOVATION, LEADERSHIP, AND TECHNOLOGY
Arlington, VA
Website
Master of Science in Information Technology, Data Science Track (On-campus)
Total Estimated Program Cost: $26,717 (in-state)
(out-of-state per credit rate: $1,140)
Students in this track also qualify to earn a data science graduate certificate with no additional courses.
Built around a unique IT-driven curriculum
Research endeavors at Marymount have been funded by the National Science Foundation, the National Institute of Health, and many private business partners.
Students who want a little more flexibility than dedicated data science programs can provide may find a happy medium in the data science track offered through Marymount's Master's IT program. The program's core courses cover broad IT topics like enterprise infrastructure and security as well as more field-specific issues like data management and analysis. But on the data science track, students get four more courses covering data visualization, scripting methods, and machine learning. But despite the relatively small data science course load, this program focuses on tools and methods today's data companies often look for. With Brown's location amongst the many tech innovators in Washington, DC, students are close to many rewarding internship, employment, and research opportunities.
---
Washington (Private)
Seattle University (Private)
COLLEGE OF SCIENCE AND ENGINEERING
Seattle, WA
Website
Master of Science in Data Science (On-campus)
Total Estimated Program Cost: $36,671 (in-state)
(out-of-state per credit rate: $688)
A 45-credit-hour program with evening classes for working students.
The capstone experience organizes students into small teams who complete a data project for one of the school's industry partners.
Curriculum is developed with the aid of an Industry Advisory Board made up of partners like Amazon, Facebook, and Boeing.
With 10 courses in the core curriculum alone, SU's industry-guided MS Data Science program is one of the larger ones on this list. Over the course of 30 credit hours, students become familiar with foundational data science principles and the tools today's professionals use to organize, store, and understand all types of information. Students then take three elective courses that either dive deeper into those topics or explore specific uses in social media, crime mapping, economics, geography, and more. This all culminates in a capstone experience during which student teams work with industry partners to develop and implement advanced analytical solutions to real-world data sets.