How to Read Crypto Charts
Cryptocurrency has dominated headlines for years at this point. From its beginnings as a relatively obscure and – to many – incomprehensible form of online-focused currency exchange, crypto has really become an economic and cultural mainstay. At the same time that it has established itself in the mainstream, people are still pretty confused about what crypto is. This confusion arises out of its technological properties, its stateless nature, and the sheer number of different cryptocurrencies.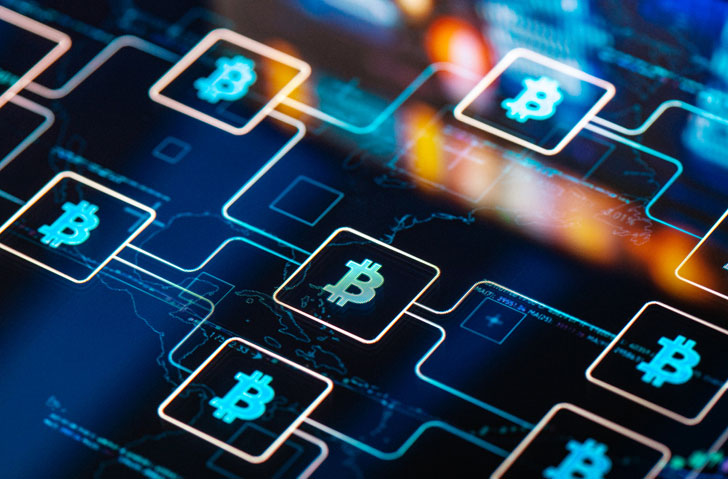 When potential investors or those with just a general curiosity about crypto are able to understand the ebb and flow of crypto values, people should be able to make more informed financial decisions. To help enthusiasts of all knowledge levels read crypto charts more effectively, data science tools have been created for collection, analysis, and prediction purposes. And from this intersection of data science and cryptocurrency, traders can make better choices with their investments and join the crypto movement.
Featured Programs:
Sponsored School(s)
What Is Crypto?
Cryptocurrency enables people to exchange decentralized, practically untraceable money. To fully grasp how this is possible, it's necessary to look at crypto through its individual parts.
The Function of the Blockchain
Every kind of cryptocurrency is rooted in data science. At its foundation, cryptocurrency can be best understood through the blockchain. Blockchains are active databases that are shared between different computers around the globe. These constantly updating databases use cryptographic measures – where crypto functionally earns its name – to collect, store, and validate information safely. By employing cryptographic practices, blockchains effectively protect against hacks, leaks, and breaches.
Put simply, blockchains act as ledgers that catalog the buying, selling, and exchanging of cryptocurrencies.
Importantly, no single company, organization, country, or person runs a blockchain. Instead, several computers around the world work as a network to host blockchains. These kinds of databases are constantly updating with new currency transactions that are verified by individual computers. This contributes to the overall safety of cryptocurrency: while hackers may be able to penetrate an individual computer, they would need to take control of every computer in a blockchain network to alter or delete entries.
For the sake of transparency, most blockchains are open-sourced and accessible to anyone who wants to view them. This means that there is an additional level of accountability behind cryptocurrencies, where third-party validators can easily spot anomalies or potential problems.
In order for cryptocurrencies to function, there must be some kind of connected blockchain. In 2009, an anonymous programmer (or group of programmers) named Satoshi Nakamoto published the framework for the first cryptocurrency: Bitcoin. Backed by a dedicated blockchain network that would catalog every exchange, Bitcoin in practice proved that money-based transactions could be performed over the internet without the presence of a bank.
How Cryptomining Works
Data science is also responsible for how cryptocurrency can be made available to people to buy, sell, and trade through cryptomining. From sophisticated data mining algorithms, individual computers can mine massive data sets to offer validation and maintenance services to blockchains. As a reward for these validation practices, computers that mine these datasets are given small sums (typically fractions of a single coin) of cryptocurrency.
This process, according to Investopedia, introduces new coins into the blockchain, "confirms new transactions, and is a critical component of the blockchain ledger's maintenance and development." Essentially, people can use their own computers to mine new cryptocurrency without ever having to buy it.
Storing, Trading, and Selling Your Cryptocurrency
At the time of this writing, there are currently more than 10,000 cryptocurrencies available for people to buy, sell, and exchange. While some of the biggest and most recognizable cryptocurrencies like Bitcoin and Ethereum have come to represent the technological movement, smaller and more obscure cryptocurrencies exist that have different functions and values.
For anyone wanting to engage in cryptocurrency, there are a number of avenues that potential investors can take. The original method that crypto traders and investors used to store their crypto was through setting up a "wallet," which the New York Times defined as "secure places to store the cryptographic keys that unlock their digital assets." Importantly, these crypto wallets have unique digital addresses, which are necessary for the exchange process. This measure is typically a more technical approach that involves some level of understanding in cryptocurrency.
On the other side, many apps exist now to streamline the crypto trading process. The most popular app today is Coinbase, which can be connected to a user's bank account for the seamless buying and trading of crypto. This service also involves the conversion of USD or whatever state-centered currency into the selected cryptocurrency the user wishes to buy. Venmo and Cash App, both apps designed for fast exchanges of money, also include features that enable the buying and trading of popular cryptocurrencies.
What Is Cryptocurrency Used For?
Crypto utilities are pretty vast at the moment. From decentralized currencies for buying and selling, non-fungible tokens (NFTs), and even video games created through crypto environments, cryptocurrency is beginning to find uses across different spaces.
Still, despite being lauded by early technologists in the field as having the potential to replace everyday spending money, cryptocurrency should still mostly be viewed as an investment that will raise or lose money. Again, according to the New York Times, "many of the successful applications for crypto technology are in finance or finance-adjacent fields. For example, people are using crypto to send cross-border remittances to family members abroad and Wall Street banks using blockchains to settle foreign transactions."
Blockchain technology is still relatively new, and many believe that the use cases and functions of cryptocurrency will evolve in the near future.
How to Read Cryptocurrency Charts
When first getting into investing, probably the most common way that data is visualized is through a line graph. With jagged lines that move up and down, viewers can easily identify when a stock or cryptocurrency has gained or lost value. While these kinds of line graphs are helpful entry points into understanding market movements, they really only show a fraction of the full picture.
Across the board, crypto charts function as data visualizations that show patterns, trends, and opportunities. Still, the best way to pick up on how to read cryptocurrency charts is through understanding the financial terms and concepts that have to do with investing. First, because cryptocurrencies largely operate as investments with their own markets, many stock market principles are largely applicable to grasping – and predicting – how cryptocurrencies ultimately perform.
Charles Dow's 1884 creation of the very first stock market index gave investors more information about the general health and growth possibilities of the largest companies in the United States. This contribution was ultimately a "reliable way to measure business conditions within the economy and that by analyzing it, it was possible to identify major market trends," according to crypto informational guide CoinTelegraph.
Primary, Secondary, and Tertiary Trends
Through this approach, trends in the stock market and now in crypto charts can be approached through three different avenues, which all have to do with the passage of time:
Primary Trends: As trends that cover the greatest amount of time, primary trends largely monitor market shifts over the course of months into years. Importantly, primary trends detail both bull markets, which happen when values of crypto steadily rise, and bear markets, which occur when the same values drop.
Secondary Trends: Within primary trends, there may be marked blips. Secondary trends typically illustrate a market shift that represents either an uptick in a bear market or a downward turn in a bull market. These are typically short lived in the context of a primary trend. Still, the window of time for a secondary trend is significant enough to motivate some investors to either buy or sell different crypto options.
Tertiary Trends: When markets show anomalies on single days or potentially a week, market analysts rightly label these movements as tertiary trends. These typically don't prompt investors to change course because of their suddenness and short-lived nature.
The Significance of Candlestick Charts
When investors are able to grapple with different crypto charts and identify the most prominent, specific trends, they are able to locate key crypto chart indicators and make more effective spending or selling decisions. One immersive, malleable way that investors can hone in on the shifts in crypto values is by employing a candlestick chart framework.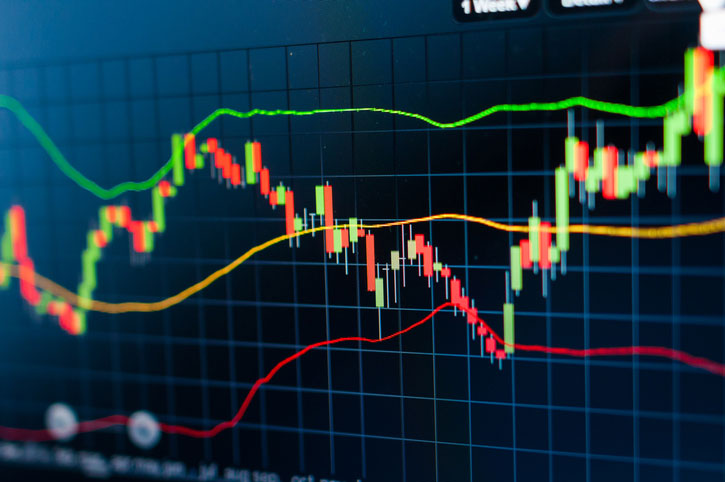 A candlestick chart is a form of data visualization that demonstrates how a cryptocurrency's value changed throughout a specific passage of time. The chart is also able to illustrate the severity to which the value increased or decreased. As crypto wallet juggernaut Coinbase states, crypto candlestick charts enable viewers to "see the highest and lowest price that an asset hit during a given timeframe — as well as its opening and closing prices."
The data points in a candlestick chart resemble an actual candle, with a wick appearing at both the top and bottom of a rectangle that will vary in size depending on how much time has passed in the individual unit. The "candles" in this context will also appear either green or red to connote a positive or negative change in value, respectively. As green candles represent an increase in value, red candles will communicate an overall price decrease.
Additionally, the size of the wicks play an important role in price predictions. For example, a wick that stretches out sizably from the bottom of a candle could suggest that investors are about to buy a certain cryptocurrency because its price has decreased. Separately, an elongated wick at the top of a candle may indicate that investors are about to sell to maximize their earnings.
Candlestick charts have become the most recognizable crypto charting method. As a staple in the industry now, crypto traders can work with – and even create – interactive crypto charts that derive analysis from information communicated in candlestick models.
The Intersection of Reading Crypto Charts and Data Science
While crypto currency couldn't really exist without sophisticated data science techniques, making sound investments based on crypto chart patterns could not be possible without effective data analysis and modeling measures. For one, the world of investing would not exist as we know it without data visualization. Because different patterns and trends can be communicated graphically through predictive data modeling, crypto charts can ultimately be more digestible.
By working with large datasets in the crypto market, data scientists, analysts, and software developers are able to create tools that help individuals, businesses, and hedge funds make stronger investment decisions based on their goals. For example, when data science professionals can extract nuanced trends through a program written in Python, cryptocurrency price increases and decreases can be better predicted. Even though unexpected current events can disrupt the crypto market, a lot of information can be gathered from historical patterns to forecast future movements.
Data science professionals are also able to create programs that analyze minute details having to do with crypto price gains and drops. Through advanced machine learning and data science algorithms, these programs can offer investors clear-cut, empirical choices that can shape investment strategies.
You can gain the skills necessary to help build these types of predictive models. One of the most effective and engaging ways to join the growing industry of crypto market analysis and forecasting is by getting a bachelor's or Master's degree in data science. Through the perspectives of data science faculty who have diverse experiences in financial, computer science, business, technology, and governmental spaces, you can learn how to build a sprawling knowledge base to join the field. Learn about which data science degree program can help you accomplish your academic and career goals, and begin your journey into cryptocurrency forecasting today.