The Increasing Importance of Health Informatics
Advancements in health information technologies (HIT) and health informatics are revolutionizing health care outcomes across the United States.
Health informatics, which is defined by the American Medical Informatics Association as "the science of how to use data, information and knowledge to improve human health and the delivery of health care services," is becoming more important as healthcare institutions face pressure to simultaneously reduce costs and improve the patient experience.
Featured Programs:
Sponsored School(s)
More efficient methods for sharing health care information are needed for patient-centered care, and these methods require a full integration of clinical and administrative data. The Online Master of Science in Health Informatics prepares students to support health care systems in their mission to achieve this goal.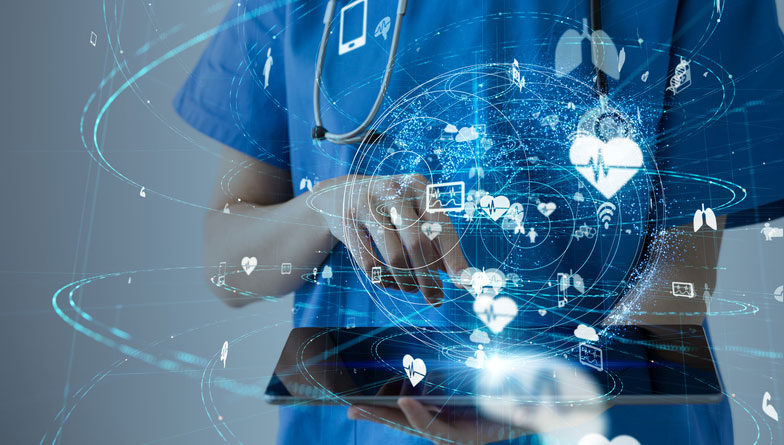 More than a decade ago now, the Health Information Technology for Economic and Clinical Health (HITECH) Act was signed into law to achieve the following goals:
Improve quality, safety, and efficiency
Engage patients in their care
Increase coordination of care
Improve the health status of the population
Ensure privacy and security
Health informatics is a necessary component of the act, which encourages healthcare providers to adopt electronic health records (EHR) and the Meaningful Use program.
In addition to federal regulation and better quality of care for people who are currently sick and managing disease, health informatics has a significant impact on preventive medical care.
In fact, the American Board of Medical Specialists has noted the importance of infor matics  of preventive medicine on the basis that health informatics enables clinicians to leverage the large volume of data collected from various sources to predict the likelihood of people and communities developing a particular disease. This predictive modeling allows health care providers to intervene and improve health outcomes for individuals and populations.
Other applications of health informatics include tracking epidemics, immunizations, and proper use of controlled substances. The dynamic nature of this interdisciplinary field means that the health care industry will continue to see new applications for informatics and subspecialties — such as translational bioinformatics, imaging informatics, and public health informatics — as technology advances and more data become available.
With more than 20 years of customer service and leadership experience in nonprofit and for-profit organizations, Dr. William Miller has served in management and oversight, marketing, staff development, budgeting and client relationship management. In addition to his current role at The University of Scranton, his higher education career includes administration and faculty appointments at The Commonwealth Medical College, Marywood University, and Wilkes University where he has worked and taught in both residential and online programs. Throughout his various roles, one thing has remained constant – the need for data in decision-making. In his role as Program Director and faculty, Dr. Miller is able to combine his healthcare and education experience with his understanding and application of data to assist the healthcare leaders of tomorrow.
Introducing Health Informatics to Prospective Students
According to Dr. William Miller, health administration faculty specialist in the Health Administration & Human Resources department at The University of Scranton, health informatics is an interdisciplinary field that comprises professionals from various sectors.
"It's important to remember that health informatics students could come from any health care field or even from outside health care. Those from within health care have unique experiences. Those coming from nursing understand what the nursing side needs, whereas those coming from administration understand what the administration side needs. So, it's a matter of capitalizing on that," Dr. Miller says.
Thus, Miller advises delving into the student's background to learn more about why they are interested in informatics. "It's also important to emphasize here that informatics is different from health information management," he says.
Although health information management (HIM) and health informatics (HI) both leverage data and information technologies to improve health systems and patient care, they are discrete branches of the health care field.
Health information managers maintain and protect patients' health information, whereas health informaticians are concerned with the technologies, such as EHRs, data analysis, simulation, and predictive modeling software, that underpin health information management.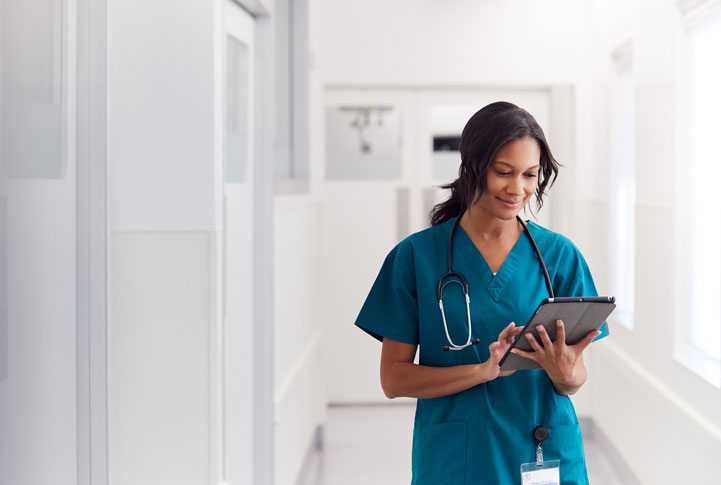 Physicians and researchers note that the informatics field creates opportunities for specialized informatics professionals in the health care industry, including roles in:
Internet informatics
Data mining and information analysis
Life science informatics
Social computing
Human-computer interaction
Information architecture
Information assurance and cybersecurity
Organizational informatics
The American Medical Informatics Association (AMIA) has more than 5,600 members, all of whom are experts in health informatics or a related area, such as policy and education. AMIA strives to promote health care reform by using "biomedical data, information, and knowledge for scientific inquiry, problem solving and decision making."
The significance of decision-making in health care — or any field — cannot be overstated. Without solid problem-solving and decision-making strategies, health care organizations could not develop innovative policies for better health. These decisions are the reason data science and informatics exist.
Dr. Miller emphasizes the importance of decision-making when advising students.
"I ask prospective students what they want to do with their career and how they make decisions. There's a pause. They explain what they want from their career, but they're puzzled by me asking them how they make decisions. I segue into informatics by explaining that we all use informatics every day of our lives, whether we realize it or not."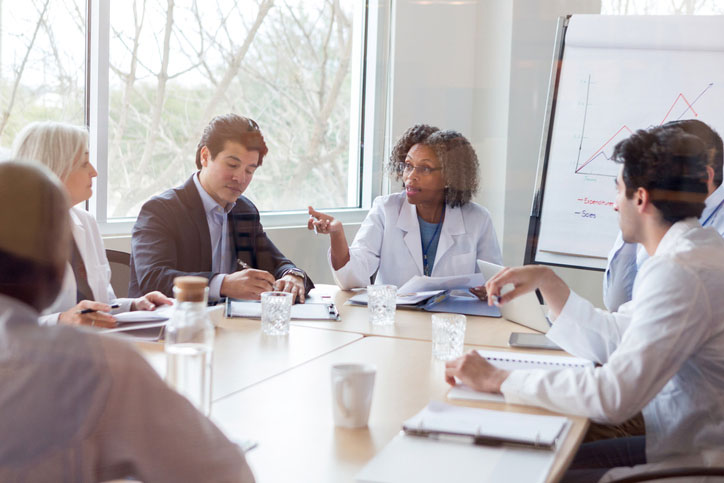 The Online Master of Science in Health Informatics program is designed to prepare students for health care careers that use informatics to help clinicians and other health care professionals make decisions about health care delivery and administration. Thus, health informatics directly impact patient outcomes.
As Dr. Miller explains, data must be interpreted to reveal meaning and put into context to allow decision-makers to determine how to use it.
"We're grabbing data from all around us all the time — especially in our data-driven areas of life, such as cell phones and computers — and then essentially using that data to make a decision. When you look at it in its most simplistic form, that's informatics," says Dr. Miller. "It's that gathering of information, working, analyzing it, understanding where to get it, how to use it."
How Is The University of Scranton's Online Master of Science in Health Informatics Unique?
Accredited by The Commission on Accreditation for Health Informatics and Information Management Education (CAHIIM), the Master of Science in Health Informatics degree program offers students the option of specializing in data analytics.
Students with data mining, data visualization, and predictive analytics skills have the capacity to improve health care delivery by working with other informatics, technology, and health care professionals to apply their insights to problems and decisions regarding individual health and overarching health policies.
The health informatics master's program is unique in its approach to the delivery of course content and hands-on application practices, as well as its focus on the Catholic Jesuit principles of teaching.
For Dr. Miller, the program's comprehensive, interdisciplinary approach is what sets it apart from other health informatics master's programs.
When asked what makes the program unique, Miller says, "First and foremost, it is our interdisciplinary approach. Since the program's creation, we have had faculty from computer science, health administration, and our school of management. The previous director was a nurse by trade. So, it's this interdisciplinary approach that's given us an opportunity to see how the data is used and introduce the students to the concept of informatics."
For those who think health informatics is exclusive to people within the health care field, Dr. Miller explains this isn't so.
"We offer a well-rounded program. We offer an introduction to informatics. We offer an introduction to health care for those students who do not have a background in health care. We offer some computer science courses in the program."
Experiential Learning
The hands-on, experiential component of the program gives students the opportunity to apply the skills they've learned in a real-world context.
"The end of the program is all application courses, working in areas like population health, management, and decision-making. And before the capstone, which includes the internship, students take a current topics course," Dr. Miller says.
Students in the program become familiar with external database applications, such as EHR Go, that give them access to data similar to what they would see in a health care institution and allow them to use it in different ways.
This hands-on approach, according to Dr. Miller, is key to transitioning from the classroom to the industry.
"When you take the characteristics of the program and link them with a capstone course that puts the student in an internship in an organization, it gives them real-world experience. We've had students go right from their internship to a job within that organization."
The last piece is the university's Catholic Jesuit philosophy, which is "dedicated to the freedom of inquiry and personal development fundamental to the growth in wisdom and integrity of all who share its life."
Dr. Miller breaks that down for us.
"At the graduate level, I see it as the concept of magis — that we're really trying to make the students the best version of themselves that they can be. We're not trying to mold the student into being a certain individual. We meet the students where they are and make them the best version of themselves because the individual ideas and what they bring to the table are just as important as the faculty and the skills we're able to give those students."
Staying Relevant
Health informatics is constantly evolving with new and advancing technologies and Big Data trends. This requires diligent monitoring of health informatics and the health care industry at large. Dr. Miller and the rest of the program faculty recognize the challenges of staying relevant in such a revolutionary profession and have established practices to ensure that students receive the foundational skills and the resources they need to succeed in their chosen career.
"We have a professional advisory council that keeps us abreast of the changes to help us update our courses as needed. This is challenging at times because the industry changes so quickly. What we strive to do with our program is give the students a general background so that they are prepared to step into an organization and then learn from there. We firmly believe in this idea of lifelong learning," Miller explains.
This approach aligns with the Jesuit principles because, as Dr. Miller notes, "another concept that comes from the Jesuit background is that we prepare the student to ask the questions and learn as they move along in their jobs, as opposed to trying to give them everything they need."
To the educators in the health informatics master's program, the proverb about teaching a man to fish rings true. Equipping the students with the skills they need to succeed will empower them for a lifetime.
"I honestly don't think any one program would be able to give the student absolutely everything they need in this constantly changing and dynamic world of informatics."
The University of Scranton Offers Hands-On Learning Opportunities
Dr. Miller attributes the graduates' successes, in part, to the hands-on learning opportunities they receive throughout program.
"We've had students who have jumped in and led systems integrations. We've had students who have worked on real time data collection, and gathering and analysis for program outreach. Some students in the program have worked on software installation to understand what's needed on the back end to develop it. And on the front end, students have gotten experience in decision support."
The key, as Miller noted, is meeting the students where they are. The program attracts potential students with a broad range of interests within the arena of data analysis and informatics. Therefore, the experiences of each student should reflect their interests.
According to Miller, "It entirely depends upon the student, what the student is looking for. We place the student in an internship in our capstone course during the last semester of the program. Ultimately, we try to match the student with what they want. Some students do work within the same organization in which they are employed."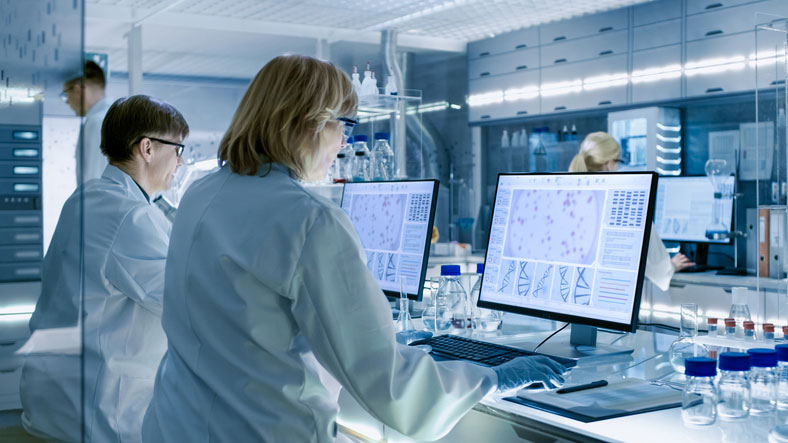 The result of this hands-on learning model is that graduates are equipped for their roles in the interdisciplinary field of health informatics, a high-demand occupation that can involve:
Clinical data
Pharmaceutical data
Insurance data
Behavioral data
Public health data
Health research data
Learning health systems
"We have been able to place students almost everywhere within an organization that requires an analysis of data or uses data in some way, shape, or form, depending upon the student's interest," says Dr. Miller.