Your Guide to Choosing a Sports Analytics Degree
Over recent years, the field of Sports Analytics has grown in popularity and importance. Using Sports Analytics, data and statistics are used to make decisions in areas such as:
Player/team performance
Player health/nutrition
Fan experience
Sports Analytics goes beyond reporting statistics. It is about synthesizing collected data into meaningful and actionable information that can impact decisions made in the sports industry – a business with an estimated size of $500 Billion in the United States and $1.5 Trillion globally in 2015 (Plunkett Research). As a result, schools are beginning to offer degree programs focused specifically on sports analytics. A sports analyst degree can be earned at both the bachelor's and master's level with a few schools even offering certificate programs.
Featured Programs:
Sponsored School(s)
From 2010 to 2014, the sports industry saw an estimated growth of 12.6% (DCR Trendline), significantly higher than other industries overall. The growth of Sports Analytics is illustrated by the increased popularity of organizations and conferences such as the MIT Sloan Sports Analytics conference, an event known to sell out as it attracts high profile speakers and participants in the sports industry. Another well-attended conference is the Sports Analytics World Series, sponsored by KPMG, where participants learn how analytics is affecting the sports industry globally. This conference is held at several locations worldwide, an indication of the global popularity of Sports Analytics.
What Careers are Available for Sports Analytics Degree Graduates?
Careers in Sports Analytics are available with sports teams, leagues and professional organizations. Graduates of Sports Analytics programs can also seek employment with third-party vendors that specialize in providing these services to sports organizations. News outlets such as ESPN and Sports Illustrated also have Sports Analysts on staff to help with reporting and analyses which is used to produce on-air and online content for fans.
Many graduates with a Sports Analytics degree are also qualified to pursue sports management roles, as decisions in the sports industry become more data-reliant.
Increased Opportunities for Sports Analysts – NFL, Sports Science (Training & Nutrition), Fantasy Leagues, & Sports Betting
With the overall sports industry showing steady growth over the years, opportunities for Sports Analysts should only increase as well. As more sports teams bring their sports analysis in-house, there is an increasing number of opportunities in this field. Back in 2005, there were very few National Football League teams with analytics professionals on staff. Now most NFL teams employ Sports Analysts within their organizations. The NFL is well behind other professional sports leagues, including Major League Baseball and the National Basketball League, when it comes to its acceptance of advanced analytics. However, NFL teams are realizing the value in the data being collected.
As the sports industry shows continued growth, the volume of data collected will continue to increase as well. The surge in data collection and availability is a result, in part, from technological advancements including cheaper data storage, boosts in computer processing capabilities, enhanced communication via the internet and the development of motion capture technology. Sports science innovations, as they relate to training, injury prevention and nutrition, have also generated a wealth of data to be used by sports organizations in decision making, with team trainers and nutritionist tracking and reporting an increased amount of data.
In addition, demand for Sports Analytics has expanded as fan experiences, such as fantasy leagues and sports gambling, continue to gain popularity and as teams are looking to increase revenue from ticket and merchandise sales. More data is being generated with the advancements in technology as it relates to fan engagement. Teams will need the expertise of an analyst to synthesize this data into meaningful information that can help improve fan experiences and increase engagement.
With the abundance of data available and the growth of the sports industry, there are a variety of career opportunities in Sports Analytics. Analysts with a background in healthcare, nutrition or science can work in areas such as athlete or team nutrition and player recovery and injury prevention. Those with a background or general interest in Business may decide to pursue a Sports Analyst role in Marketing or Finance in the front office of a professional sports team. Sports enthusiasts with coursework or professional experience in Journalism or Communications may pursue analyst positions at sports media outlets.
Bachelor's in Sports Analytics
Many undergraduate programs offer a Sports Analytics degree through their Sports Management department. Reputable programs offer a well-rounded curriculum that includes business, programming/database, sports management and math/statistics coursework. Reputable undergraduate Sports Analytics programs will offer internship opportunities allowing for hands on experiences to complement coursework.
There are also programs that allow students to complement their major with a minor in Sports Analytics. Coursework for this would likely be offered through a university's math/statistics department or jointly through business, engineering and/or science departments. Curriculum would include not only math or statistics courses, but also business and sports management classes.
Students interested in data analysis in the sports industry also have the option of pursuing a Bachelor of Science or Arts degree in Sports Management with a concentration in Sports Analytics. Taking this route, students will learn in-depth about the sports industry while selecting electives geared towards programming, statistics and business.
Undergraduate Sports Analytics courses available at these universities vary and offer students many options to pursue a particular area within the industry. In addition to general math/statistics and programming coursework, examples of sports industry-related courses include Sport Marketing Analysis, Media and Public Relations in Sports, Sport Economics, Price Theory in Sports and Sport Data Analysis. Elective selection should be determined by a student's specific career aspirations within the field of Sports Analytics.
Robust Sports Analytics programs would also include communication and leadership courses as it relates to the sports industry. To adequately prepare students for a successful career in Sports Analytics, programs should offer opportunities for students to exercise and strengthen their soft skills. These include communication, leadership and teamwork skills that will be invaluable as they may work with a variety of people including coaches, trainers, players, nutritionists, business managers and executives.
Whether majoring or minoring in Sports Analytics, valuable opportunities for graduates of these Bachelors programs abound. Upon earning their degree, graduates can pursue analyst positions with a variety of organizations including professional sports teams, sports media outlets, sports equipment companies, and companies related to sports medicine. Those who pursue a Bachelors in Journalism or Communications with a concentration in Sports Analytics may find opportunities as a broadcast, print or online media journalist.
Master's in Sports Analytics
Many of the universities offering post-graduate degrees in Sports Analytics do so in conjunction with their Sports Management degree programs. Several institutions offer a Master's in Sports Management with a concentration in Sports Analytics. It is important that applicants invest time in researching the different Sports Management and Sports Analytics programs available as they differ by institution. For example, one particular Master's in Sports Management program emphasizes financial analytics within sports organizations, while others concentrate on statistical analysis and decision model building. Applicants interested in this type of program should research the curriculum offered at different universities and apply to programs that best align with their interests and desired future career path in the sports industry.
At other universities, students can concentrate or specialize in Sports Analytics by taking electives to build upon advanced degrees such as a Master's in Decision Science. Students interested in a Sports Analytics career path may take electives along with their required Decision Science courses. Examples of elective courses include Sports Analytics for Performance and Sports Management Analytics.
Although rare, there are highly specialized Sports Analytics programs at the graduate level. For example, one program focuses on Sport and Exercise Analytics. Coursework in this program focuses on the intersection of Data Science, physiology and biomechanics. Students enrolled in this program take a combination of courses from the Data Science and Exercise Science departments. Because the specialized nature of this program, graduates could pursue careers with organizations such as:
Professional and collegiate sports programs
Wearable sports technology companies
Human performance labs
As the role of data analytics in the sports industry continues to grow, more universities may seek to offer specialized programs such as this one.
Sports Industry Professionals at the Management Level
Analytics has become a valuable skill for sports industry professionals at the management level.
A Master's degree program in Sports Analytics provides an opportunity for college-educated industry professionals to equip themselves with the tools needed to help their organizations remain competitive or relevant in the sports world while moving up the ladder in their organization. For data analysts working outside the industry who are interested in Sports Analytics, a Master's program in Sports Analytics will give them the industry-specific knowledge to find professional opportunities in this field.
Many programs are offered online and either on a full-time or part-time basis, making it easier for working professionals to pursue their degrees while employed. Online options also expands program options for applicants. Examples of Master's level coursework include Sports Analytics and Social Engagement, Client Communications and Professional Consulting, Innovation Through New Technologies, Project Cost-Benefit Analysis and Evaluation: Qualitative Methods. In addition, coursework in Master's programs offer more leadership and management training relative to Bachelors programs.
Graduates of Master's in Sports Analytics programs may find more advancement opportunities into leadership positions at a variety of commercial sports organizations, sports leagues, intercollegiate athletic programs and sports media outlets. With their advanced degrees and training, graduates should find themselves in more decision-making roles. Examples of typical roles may include:
Director of Operations
Sports Information Manager
Business Development Manager
E-Sports Manager
Athletic Director
Whether pursuing an undergraduate or postgraduate degree, it will be beneficial to gain experience outside the classroom. Some programs may offer capstone or consulting projects with sports organizations as part of the curriculum. Complement these in-class opportunities with relevant extracurricular organizations on-campus or internship opportunities. As an example, at the University of Michigan you will find student-run organizations such as the Michigan Sports Analytics Society. In addition, Sports Analytics students may find internship opportunities working with their colleges' athletic departments.
Upon graduation, it is important to foster the connections that were made while in school as well as those made during any internships. Graduates should find networking opportunities to create new connections within the sports industry, through conferences or alumni events. The University of Connecticut helps the graduates of its program stay connected through its UConn Sports Business Association which is made up of faculty, students and alumni.
Case Studies: How is Sports Analytics Utilized?
National Basketball Association (NBA). The National Basketball Association has relied heavily on data analytics, with almost all teams having full-time Sports Analysts on staff to help with coaching and front-office decisions. The Golden State Warriors is an example of a team successfully using Sports Analytics to improve player performance. Data analysis is credited with strengthening the team's three-point shooting as its percentage has increased over each of the past eight years. In addition, NBA players use wearable technology to collect data on sleep and fatigue levels which is used for injury prevention during games.
Major League Baseball (MLB). For years, Major League Baseball teams have employed Sports Analytics in many facets of operations. As General Manager, Theo Epstein is well-known for using data analytics to help the Boston Red Sox break the Curse of the Bambino and win the 2004 World Series. Using player performance data, Epstein initiated key player trades and acquisitions which ultimately created the World Series Championship team. In 2011, the Chicago Cubs hired him to be the President of Baseball Operations, and five years later, the team won its first Word Series in over 100 years. Using data analytics, Epstein is able to assess a team's strengths and weaknesses and bring together a championship team through player trades/acquisitions. Data analysis also plays a key role in contract negotiations with new players.
Professional Golf Association (PGA). The Professional Golf Association Tour has fully embraced the role that data plays in the sport of golf. Using its ShotLink System, the PGA Tour collects roughly 32,000 data points using laser rangefinders at each tournament event. The recorded statistics are used by players and coaches to identify areas requiring improvement. Golf course designers also use the data to plan new courses that will adequately challenge professional players. As larger volumes of data are collected by the ShotLink System and utilized by a wider audience, the need for analysts to synthesize the data will increase. For example, sports analysts work with PGA tournament on-air broadcasters to provide real-time data that can be shared with viewers. Sports analysts also use data from the ShotLink System to help create digital content for golf fans.
Sports Fan Experience. Using Sports Analytics, sports companies and organizations have the ability to improve the sports fan experience in multiple ways. At the most basic level, sports analysts use team and player statistics to tell a story of interest to a team or player's fan base. Over the years, sports industry executives have learned that investment in the fan experience can generate revenue even if the sports team may not be winning games. It begins with ticket purchases as analysts can build dynamic pricing models that help tickets sell at prices optimal for both the organization and the fans. Through analysis of data collected from the fan base, management has learned that fans value stadium or venue amenities including reliable Wi-fi or areas where they can gather such as the fantasy football lounge found in the Minnesota Vikings stadium. Using data to continually monitor the changing preferences of fans will be vital as sports venues try to increase game attendance.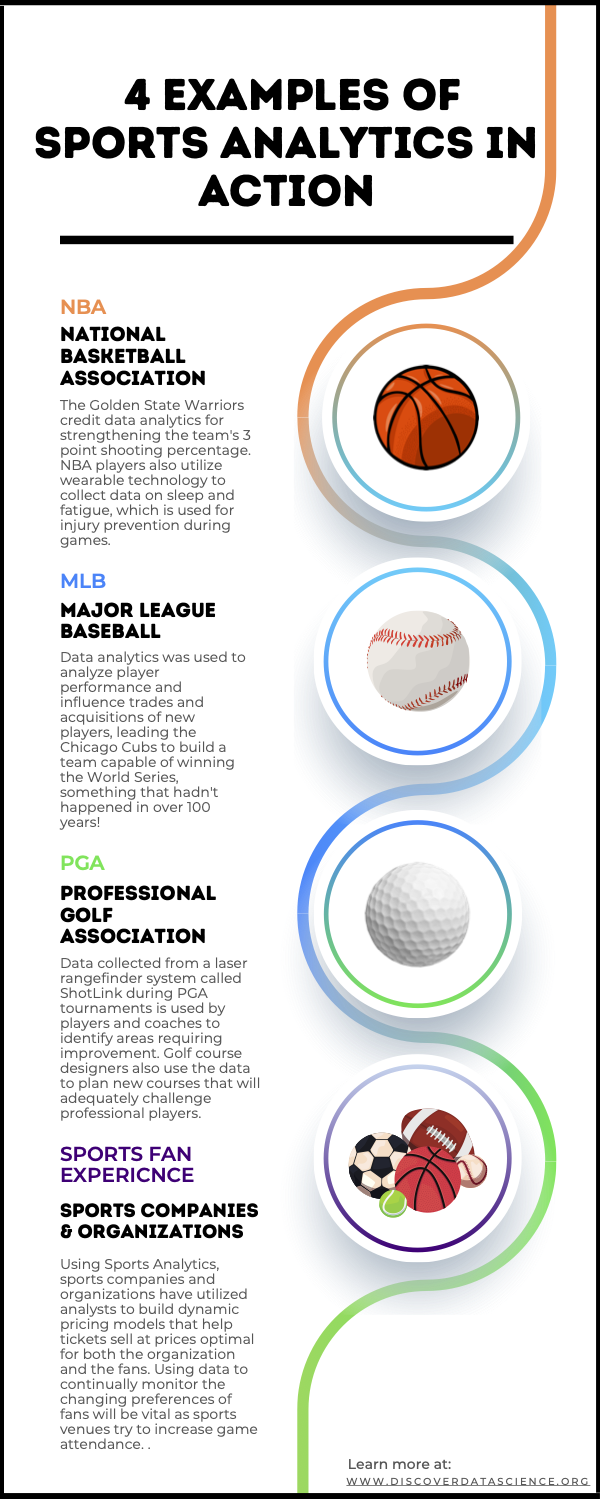 School Listings
Undergraduate Sports Analytics Programs – Majors, Minors and Concentrations
California Baptist University – Riverside, California
Sports Analytics Bachelor of Science
Program Length: 120 Credits
Delivery Method: Campus
2020-2021 Tuition: $32,942 per year
Course Offerings
George Mason University – Fairfax, Virginia
Sports Analytics – Undergraduate Minor
Program Length: 18 Credits
Delivery Method: Campus
2020-2021 Tuition: $12,564 per year (Virginia Resident), $36,024 per year (Non-resident)
Course Offerings
Mercer University –  Macon, Georgia
Sports Marketing and Analytics Major
Program Length: 120 Credits
Delivery Method: Campus
2020-2021 Tuition: $1,250 per credit
Course Offerings
Rice University – Houston, Texas
Bachelor of Arts (BA) Degree with a Major in Sport Management and a Major Concentration in Sport Analytics
Program Length: 120 Credit Hours
Delivery Method: Campus
2020-2021 Tuition: $48,330 per year
Course Offerings
Samford University – Birmingham, Alabama
Player and Team Performance Analytics Track
Sports Finance Analytics Track
Sports Marketing Analytics Track
Program Length: 24 Credits (for 2 concentrations)
Delivery Method: Campus
2020-2021 Tuition: 16,000 per semester
Course Offerings Concentrations #1
Course Offerings Concentration #2
Springfield College – Springfield, Massachusetts
Sports Analytics Minor
Program Length: 18 Credits
Delivery Method: Campus
2020-2021 Tuition: $38,770 per year
Course Offerings
Syracuse University – Syracuse, New York
Sports Analytics Major and Minor
Program Length: 125 Credits
Delivery Method: Campus
2020-2021 Tuition: $52,210 per year
Course Offerings
Master's in Sports Analytics Programs
Adelphi University –  Garden City, New York
Online Master of Science in Sport Management
Program Length: 36 Credit Hours
Delivery Method: Online
GRE: Not Required
2020-2021 Tuition: $950 per credit 
Course Offerings
American University –  Washington, D.C.
Online Master of Science in Sports Analytics and Management
Program Length: 30 Credits
Delivery Method: Online
GRE: Not Required
2020-2021 Tuition: $1,345 per credit
Course Offerings
California University of Pennsylvania – California, Pennsylvania
Online Master of Science M.S. – Strategic Sport Analysis Concentration
Program Length: 36 Credit Hours
Delivery Method: Online
GRE: Not Required
2020-2021 Tuition: $516 per credit (Pennsylvania Resident), $774 per credit (Non- resident)
Course Offerings
Indiana University Purdue University Indianapolis –  Indianapolis, Indiana
Master of Science in Applied Data Science with a specialization in Sports Analytics
Program Length: 30 Credit Hours
Delivery Method: Campus
GRE: Required
2020-2021 Tuition:$368 per credit (Indiana Resident), $1,006 per credit (Non-resident)
Course Offerings
Marquette University –  Milwaukee, Wisconsin
Sports and Exercise Analytics Graduate Program
Program Length: 2 Years
Delivery Method: Hybrid
GRE: Required
2020-2021 Tuition: $1,170 per credit
Course Offerings
Northwestern University –  Chicago, Illinois
Master's in Sports Administration Specialization in Sports Analytics
Program Length: 11 Courses
Delivery Method: Campus
GRE: Required
2020-2021 Tuition: $41,448 – $42,768 total cost
Course Offerings
University of North Texas –  Denton, Texas
Advanced Data Analytics with a concentration in Sports, MS
Program Length: 21 Credit Hours
Delivery Method: Campus
GRE: Required
2020-2021 Tuition: $253 per credit (Texas Resident), $675 per credit (Non-resident)
Course Offerings
Certificates in Sports Analytics Programs
Northwestern University –  Chicago, Illinois
Sports Analytics Certificate Program
Program Length: 4 Courses
Delivery Method: Campus
GRE: Not Required
2020-2021 Tuition: $2,638 per course
Course Offerings
Wilmington University –  New Castle, Delaware
Sports Analytics Certificate
Program Length: 15 Credits
Delivery Method: Campus
GRE: Not Required
2020-2021 Tuition: $381 per credit
Course Offerings