Data Science: Degrees, Related Programs & Exciting Careers
Discover Data Science is all about making connections between prospective students and educational opportunities in an exciting new, hot, and growing field – data science.
From data science bootcamps and certificate programs to bachelor's and data driven MBA programs to a Ph.D. in Data Science, to on campus master's in data science programs or online master's in data science, programs are growing in popularity and data science professionals in demand.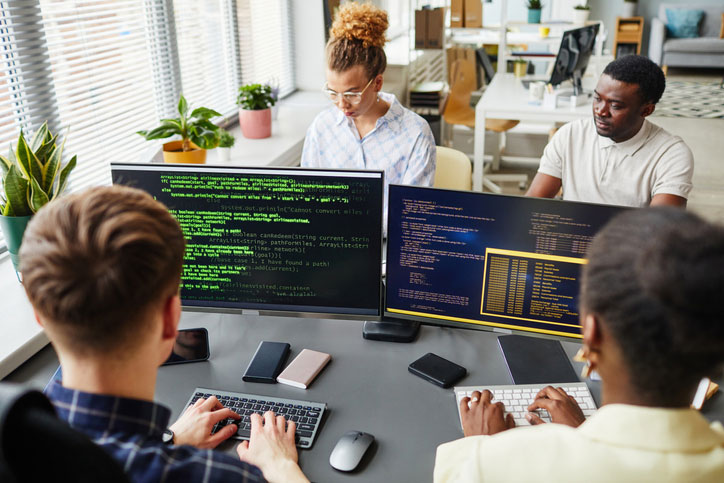 Featured Programs:
Sponsored School(s)
This is in step with the tremendous growth of the data science industry, which has boomed in recent decades as technological innovation – as well as our reliance on digital instruments of all sorts – has greatly expanded. Indeed, the ability to access and process good data streams are opening new opportunities across a wider range of career options and industries.
There's no shortage of good opportunities in big data, meaning newcomers to the field have the great chance to capitalize on this burgeoning industry.
However, with so many options out there, it can be hard to know where to focus your attention, and how to get started once you've chosen your specialty. This guide is here to help you unpack the fundamentals of the field of big data so that you can pursue the  remunerative and rewarding career path that's meant for you.
What is Data Science?
It's hard to come up with a precise definition of what a data scientist is because the raw information that data scientist work with comes in various forms and has many applications. But, at its core, data science is about using traditional scientific methods, like computation, statistics, and mathematics in an interdisciplinary way to help inform, recommend, and advise based on real trends, behaviors, and analytics.
From better dating apps to curing cancer, the ability to access and process good data streams are opening new opportunities across a wide range of career options.
What is a Data Scientist?
A data scientist might be a number-cruncher, a trend observer, or a pattern finder.
Part mathematician, part computer scientist, and part business strategist, data scientists must have expertise in several different disciplines at once.
Data scientists work in all kinds of roles from large corporations to lean startups. Data scientists might help policy makers develop better decisions, or they might work in finance or healthcare.
Data scientists are technically proficient and often use a number of computer code languages to compile and synthesize data. A background in advanced statistics and intermediate to advanced levels of programming skill are required.
Depending on the field, data scientists also have to be creative to interpret and visualize data expressions.
Still have more questions? Read Top 5 Reasons to Become a Data Scientist
Related Degree Programs
Still undecided if a data science degree is the right fit for you? Don't worry! We have extensive guides covering related degree programs that might better match your skills and career goals. A few more popular guides covering closely related degrees include:
It's a great idea to look into all of these different options before committing to a degree program, as they can lead to vastly different career paths.
A career is only as sustainable as your commitment to it, so it's imperative that you pick a path that you will find fulfilling in the long term.
Related Programs Online
Similarly, perhaps you are interested in exploring related programs where instruction is offered 100% online. These are excellent options for students who are continuing to work as they attend school as well as students who don't live in areas with top degree programs. They often feature part-time options that allow students to pursue their degrees on their own schedules.
We have a collection of guides covering related online programs with comprehensive schools listings:
5 Great Reasons Why You Should Consider a Degree in Data Science
There are many reasons why more and more people are deciding to pursue careers in the big data industry, which increasingly boasts numerous advantages over other professions. Here are a few of the biggest incentives to enter the field.
These are just a few of the biggest advantages of receiving a data science degree. For practically all industries, data scientist positions are expanding with new roles being created every day.
Choosing the Right Data Science Program
Not all data science programs are created equal. A number of factors contribute to finding the right educational fit. The good news is that there are plenty of good options.
Everyday, new data science bootcamps, certifications, undergraduate, and graduate programs are launching.
What to Look For in a Data Science Program
Not all data science programs are created equal. Indeed, in the rush to capitalize on the big data industry, data science programs are popping up left and right, some of them lacking the accreditation or academic rigor of a serious degree program. If you're taking the next steps in pursuing your data science degree, here are the most important things to consider:
Type of program: Data science programs range from weeks-long bootcamps to years-long Ph.D. programs. Bachelor Degrees and certificate programs for post-baccalaureate students are also becoming more common. Explore data science programs by degree level.
Accreditation: Finding out if an institution meets minimum standards is important while investigating different data science programs. Transferring credits is one of the biggest reasons why accreditation is significant.
Admission requirements: Many master's programs require a GRE or GMAT score, in addition to transcripts, letters of recommendations, and personal statements. To learn more about the process of taking the GRE, check out this GRE Prep Guide.
Job placement/career services help: Having job prospects after completion of the degree is very important. Check to see if the school provides assistance with career placement.
Online versus campus: There are pros and cons for each method. Keep reading below for a breakdown.
With these in mind, you're far more likely to find yourself in a degree program that will bring you the career windfall you're looking for.
Prerequisites and Skills Needed to Pursue a Degree Program in Data Science
Each degree or program requires different prerequisites or skills. Some knowledge in the following areas is important:
You do not need to have studied data science as an undergraduate in order to pursue an advanced degree in the field. However, a foundation in the subjects and skills listed above will be absolutely necessary in order to keep up with the strenuous coursework of a serious data science program. Be sure you have acquired all these core competencies before enrolling in a degree program.
To learn more about career paths for those who excel at math, check out our guide to Data Science vs. Statistics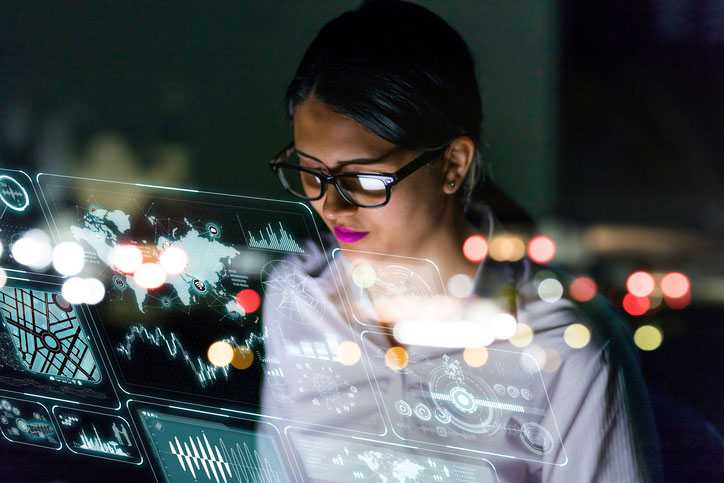 Online vs Campus vs Hybrid Data Science Courses & Programs
Universities and students are both finding a lot of benefit from new online course platforms. Flexibility and cost are big factors. For students, data science online courses might be less disruptive to other commitments.
Increasingly, online education programs fit into two categories: online and hybrid. It's important to note that online programs might still require students to visit campus up to two times during the program.
Hybrid programs offer a combination of online and campus instruction (in this case requiring a physical meeting more than two times). Many programs will require the student to attend certain classes or seminars during the program for completion.
Remember to double-check and verify all the requirements of online and hybrid data science courses. The specific program structure is likely to vary from school to school.
Industries that Use Data Science
Data scientists are highly sought after across a variety of industries. Industries that use data science include:
As you can see, there's no shortage of career options for those who specialize in data science, and they are yours to choose from as you begin to plan out your next steps. These different industries can also lead to various sub-specializations, further refining your career path around a particular kind of expertise to help you stand out in what's sometimes a crowded field.
Data science programs are helping students train for the careers and opportunities of tomorrow. It's likely that there will be even more opportunities as data becomes more and more integrated in business intelligence, analytics, and decision-making.
Right now, there are many different professions open to a professional with a background in data. A data analyst takes data and uses it to help companies make better business decisions. A data scientist uses data analysis, explore and anticipate which problems and might recommend ways to solve them.
While a data scientist works with information to find patterns and observe behavior, a data engineer is often responsible for building the infrastructure that can capture, store, and access data. Big data requires processing power and massive computational capabilities. The trend towards gathering and synthesizing data will only continue, and data engineers will build the technology needed to make data a useful tool.
Where to Study Data Science Near You
While many students are now pursuing a data science degree online, there are benefits to attending a nearby school if that is an option. We have a page for all 50 states outlining the local options in data science as well as highlighting notable employers and trends specific to each state.
Your Next Steps into Data Science
Discover Data Science is designed to help narrow down your search for the right data science or related degrees at the college or university of choice best suited for your career goals. Go ahead and dig into the various data science, business and data analytics degree programs to continue your journey into the amazing world of data.
Also, spend a few minutes to Journey through Data Science with the Data Professor
2021 US Bureau of Labor Statistics salary and employment figures for data scientists reflect national data, not school-specific information. Conditions in your area may vary. Data accessed January 2023.