STEM Scholarship Guide – Tips for Finding and Applying for Scholarships to Fund Your STEM Education
If you have an aptitude for math and science, you possess valuable skills that you can use to start a thriving and long-term career. By building your knowledge of the subject and developing your skills, you are making a professional investment that can get you work for life.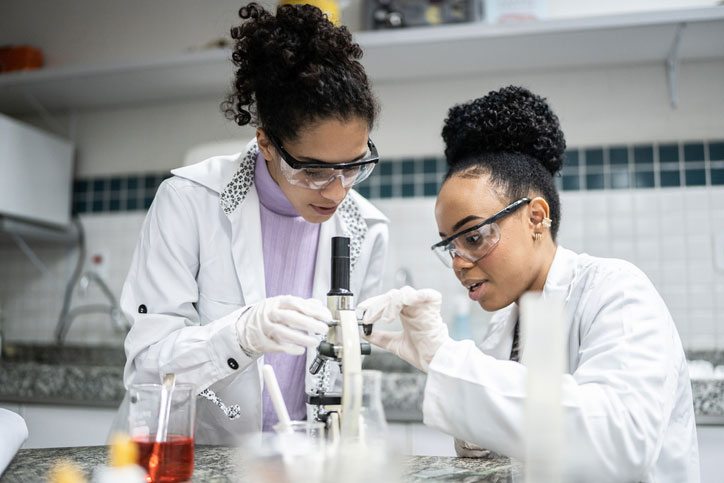 Science, technology, engineering, and mathematics (STEM) occupations help advance our nation's innovation and competitiveness by generating new ideas, technologies, and companies.
Featured Programs:
Sponsored School(s)
STEM careers can be very lucrative and the knowledge and skills in these types of work, while often very specialized, can be translated to a wide variety of occupations, including jobs in management. For example, the critical thinking skills demanded by STEM occupations can be useful in many applications.
The U.S. Department of Commerce reports that in 2019, there were 9 million STEM workers in the United States, which is approximately 6.1% of all workers. STEM occupations have been outpacing non-STEM occupations in recent years, and STEM jobs are projected to grow by nearly 9% from 2014 to 2024, compared to 6.4% growth for non-STEM jobs. Additionally, STEM workers were paid 29% more than non-STEM workers in 2019.
So how does one take the first steps in building a STEM career? It starts with your education.
The U.S. Department of Commerce report also tracks the professional development of students who have received a formal education in STEM subjects. It shows that students earning a STEM degree will enjoy higher earnings, regardless of whether they choose to work in STEM upon graduation or opt for a non-STEM field. Students with a STEM degree can obtain well paying jobs and pay down their debt more easily after graduation. Also, graduate programs in STEM often offer a modest stipend as part of the degree, while most non-STEM graduate programs do not.
It's hard to imagine a better case for pursuing a STEM degree. However, some students are still intimidated by the staggering costs of many higher education programs. However, while college or graduate school can be expensive, it doesn't have to be.
Read on to learn more about scholarship opportunities for STEM students at both the undergraduate and graduate level, as well as specific opportunities available for women and minorities in this exciting field of study.
5 Tips on Navigating the Scholarship Application Process
1. Start early! You will need to write an essay, submit test scores, obtain letters of recommendation, and collect other information for your application and this will all take time. Therefore, begin a few months before the application date to ensure that you can complete the application on time without missing the deadline.
You will need to give recommenders 3-4 weeks to write a letter of recommendation, and standardized testing agencies (for scholarships that require SAT scores for undergraduates or GRE scores for graduate students, for example) will take a few weeks to mail out your scores.
2. Read the scholarship application instructions before you start. Not following the application instructions can have your application disqualified. Save yourself the trouble and read through the scholarship announcement before you apply to ensure that you will be considered for the scholarship after you put in all of the work to apply.
3. Ask around. Do you have a classmate who won a STEM scholarship? Ask them – or your school's career office – if they can share an example of a successful application with you. This will help you in crafting your scholarship application package.
4. Proofread your essays. Even if you are the brightest student at your university, scholarship review panels will notice if your application is misspelled and contains typos. You may want to ask a friend or family member to read your essay and provide feedback. Your school's career office may also be able to provide advice on how to structure and write your essays.
5. If you don't get a scholarship, don't worry – there's always next year or a new opportunity. Didn't get the scholarship you were applying for? Some scholarship and fellowship organizations, such as the National Science Foundation, offer feedback on your application that you can use to reapply next year.
Don't be discouraged by failure – life is about how you respond to challenges and yes, even failure, as much as it is about working hard and doing your best. Know that the discipline and effort that you invested in crafting your application credentials will provide you with important life skills for the future, and may help you hone your career goals and how you present them.
Don't throw away your application materials, either, as you may be able to reuse them for future opportunities such as other scholarships or even jobs.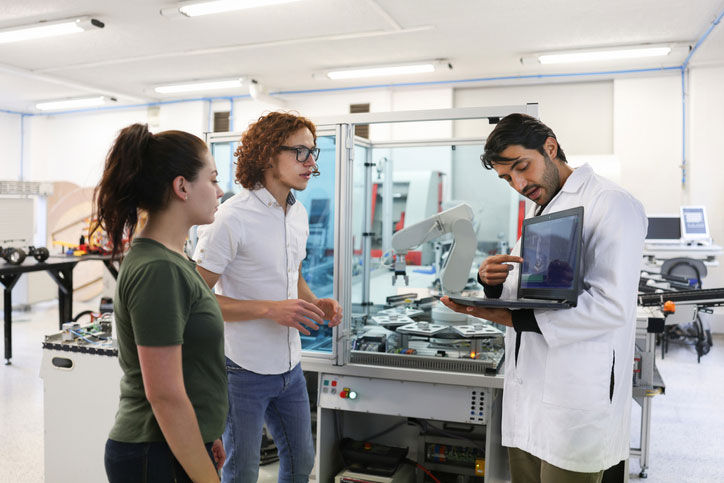 Job opportunities for those with STEM degrees
STEM is an umbrella term for a huge and varied set of subjects and disciplines that can lead students into a huge range of interesting and lucrative careers. According to a report by the Bureau of Labor Statistics, some of the top jobs for those with STEM degrees include the following:
Computer and information research scientists
Computer engineers
Architectural drafters
Mechanical engineers
Medical doctors
Astronomers
Physicists
These are just a few of the many career paths available to STEM students. As you can see, they have vastly different areas of focus, from information technology to medicine to architecture to outer space. They also require markedly different skills. This goes to show that within the broad category of STEM there are all sorts of impressive career paths that will allow you to pursue your interest and skill on your terms. It also means it's important to determine what area of STEM most calls to you as you embark on your educational journey so that you acquire expertise in the right subject to suit your goals.
FAQs
I'm interested in studying a STEM subject but don't know which path is best for me. How do I choose?
If you're at the early stages of your educational journey and want to figure out the best path through STEM for your needs and interests, take a look at some of the career options listed above. You can work backward from here: these subjects each require different skill sets and bodies of knowledge that can help you determine which educational track is appropriate for your goals.
Who are good candidates to pursue advanced education in STEM subjects?
Those who are strong and engaged students of any math or science related subject, as well as those who show an aptitude for tech-related activities such as coding and engineering, have the skills and orientation needed to keep up with the rigorous coursework of a STEM degree. If math and science are challenging subjects for you, advanced degree programs in these subjects are unlikely to speak to your strengths.
Undergraduate STEM Scholarships
Rocky Mountain Oracle Users Group "Stan Yellott" Scholarship Framework
Amount: $500 to $1000
Deadline: March 15th for an April scholarship; June 15th for July scholarships; September 15th for October Scholarships; December 15th for scholarships awarded in January of the following year
Description: RMOUG is a special interest group started in 1984 that holds biannual meetings to share information and ideas about Oracle and related information systems technologies. The goal of this scholarship, which is awarded annually, is to recognize exceptional undergraduates who seek a career in Information Technology (IT). Applicants must provide an application, application statement, letters of recommendation, and school transcripts to be considered for the scholarship.
---
Remote DBA "Experts to Students" Scholarship
Amount: $1,000
Deadline: April 15, 2023
Description: Remote DBA, the leading remote database administrator experts in SQL Server and Oracle, offers a scholarship program for high school seniors and current students interested in a career in database administration, data management, and data science. Applicants must have at least a 2.5 GPA (for college students) or 3.0 GPA (for graduating seniors). To apply, students must write an essay on a topic specified by Remote DBA; please see their website for details on the application process.
---
Amount: $1,000 to $3,000
Deadline: July 1, 2023
Description: UPE is the International Honor Society for the Computing and Information Disciplines, and together with the Association for Computing Machinery (ACM), they are pleased to offer a $1,000 scholarship. All graduate and undergraduate students who are members of the ACM as well as their university's local ACM chapter are eligible to apply. Winners will also receive a certificate of commendation from UPE.
---
Graduate STEM Scholarships
National Science Foundation Graduate Research Fellowship Program
Amount: Three-year annual stipend of $37,000
Deadline: November 15, 2023
Description: The highly selective NSF GRFP program recognizes and supports outstanding students in science, technology, engineering, and mathematics (STEM) fields pursuing research-based Masters and PhD programs in the United States. The scholarship is meant to provide a student's full stipend. Deadlines vary by the student's discipline; check the NSF GRFP for more details.
---
National Defense Science and Engineering Graduate Fellowship
Amount: $38,400 annually, a $5,000 travel budget over the Fellow's tenure for professional development; and up to $1,200 a year in health insurance for three years
Deadline: 2023 application available in August
Description: The Department of Defense offers the NDSEG program to provide scholarships to applicants pursuing a PhD in science and engineering fields with defense applications. Fellowships last 36 months and offer a monthly stipend of $3,200. The fellowship covers full tuition and mandatory fees, and health insurance costs up to $1,200 per year.
---
ACM SIGHPC/Intel Computational & Data Science Scholarship
Amount: $15,000 annually for up to two years
Deadline: Nominations open: March 15 , 2023 Nominations close: April 30, 2023
Description: The ACM SIGHPC/Intel Computational & Data Science Scholarship seeks to increase the diversity of students pursuing data science graduate work. The program, which is open to women and underrepresented minorities, enables students to obtain funds for graduate work occurring anywhere in the world. The stipend is $15,000 annually (price-adjusted to the country where the data science degree will be earned) for up to two years, but students may apply to obtain additional funding for up to five years.
---
Department of Energy Computational Science Graduate Fellowship
Amount: $45,000 yearly stipend for up to 4 years
Deadline: 2024 application opens October 2023
Description: The DOE CSGF offers an annual stipend for exceptional students about to begin graduate work or who are already engaged in doctoral research in many STEM fields.  The new math/computer science track offered starting in 2018 seeks to help those with research interests in math, statistics, or computer science which enables "high-performance computing" such as big data and its applications.  This fellowship enables students to focus on their research without having to conduct excessive departmental support activities such as teaching.
General Scholarships, including Opportunities for Minorities and Women
EIT Digital Master School Scholarship
Amount: 15,000 Euro per year
Deadline: May 29, 2023
Description: The eit Digital Master School offers a scholarship that covers the cost of its Master school, including events in the curriculum such as kick-off, summer schools, and the cost of tuition to the Master School itself. Applications for 2019 will be available in Fall 2018.
---
Insight Data Science Fellows Program
Amount: Full tuition for 7 weeks of intensive postdoctoral training in data science
Deadline: February 10, 2023
Description: Applicants to the Insight Data Science Fellows Program must be postdoctoral scholars seeking to utilize data science concepts in industry. Fellows must engage in seven weeks of intensive training based in Boston, San Francisco, New York City, and other select cities in the United States.
---
Betty Stevens Frecknall Scholarship
Amount: $2,000
Deadline: Applications accepted January- May 2023
Description: This scholarship sponsored by the Foundation for IT education is in honor of Betty Stevens Frecknall, who began her computing career as a card punch operator in the 1940s, and went on to obtain a position as a systems analyst at the US Department of Housing and Urban Development. This scholarship in her honor seeks to support students in computer science, CIS, MIS, or IT who have a GPA of at least 3.0/4.0, are a US citizen, and enrolled as a full-time undergraduate student.
---
Electronic Document Scholarship Foundation
Amount: $1,000 to $5,000
Deadline: Varies
Description: The EDSF offers a variety of scholarships for students interested in careers in the document management and graphic communications fields. Over 15 scholarships are administered by the EDSF.
---
Horatio Alger Honeywell Scholarship Program
Amount: $10,000
Deadline: December 1 to March 15, 2023
Description: The Horatio Alger Honeywell Scholarship Program awards 10 scholarships annually to help students with financial need obtain STEM-related degrees. Students whose families make less than $55,000 a year and who possess "integrity and perseverance in overcoming personal adversity" are encouraged to apply. Applicants must be freshmen in college and attend an institution partnered with Honeywell or the Horatio Alger Association.
---
Amount: $2,500
Deadline: TBA
Description: This Scholarship honors the memory of Carnegie Mellon University professor Randy Pausch. Applicants must be pursuing careers specializing in interactive entertainment, including but not limited to art, animation, computer programming, engineering, game direction and design, and sound and music design/composition.
---
American Indian Science and Engineering Society (AISES) Scholarship
Amount: Varies
Deadline: Varies
Description: AISES offers a variety of scholarships to help American Indians, Alaska Natives, Native Hawaiians, Pacific Islanders, and indigenous peoples of Canada through its online scholarships. Students can complete a general application profile that they can use to apply for scholarship opportunities that become available year-round.
---
Google's Women Techmakers Scholars Program
Amount: $10,000
Deadline: Applications open April 2023
Description: The Google Women Techmakers Scholars program offers $10,000 and the opportunity to go to the Google Scholars Retreat in Mountain View, CA. Applicants must be female, a full-time undergraduate or graduate student in the United States or Canada, must have a strong academic record and leadership skills, and must be pursuing a degree in computer science or a related field such as data science. The deadline to apply is December 1.
---
Rocky Mountain Oracle Users Group Women In Technology Scholarship
Amount: $500 to $1000
Deadline: December 15, 2023
Description: RMOUG is a special interest group started in 1984 that holds biannual meetings to share information and ideas about Oracle and related information systems technologies. The goal of the RMOUG Women in Technology Scholarship is to recognize exceptional females seeking to begin their undergraduate education as a way to encourage more women to consider technology careers. The scholarship is offered on an annual basis and requires applicants to submit an application, application statement, school transcripts, and letters of recommendation.
---
National Society of Black Engineers Scholarship
Amount: Varies
Deadline: June 30th, 2023
Description: The NSBE is an organization promoting the professional success of African-American engineers at all levels. The NSBE offers various undergraduate scholarship listings on its website year-round; these scholarships are offered by the NSBE as well as by external organizations. Undergraduates seeking to apply to NSBE's scholarship opportunities must ensure that their GPA has been verified before the scholarship deadline. Please see the scholarship page for information on specific scholarships.
---
Society of Women Engineers Scholarships
Amount: Varies
Deadline: Varies
Description: The Society for Women Engineers offers scholarships to undergraduate and graduate women conducting undergraduate work in engineering and related fields.  Conveniently, applicants to SWE scholarships can complete one application to be considered for all scholarships for which they are eligible.  In 2017, SWE awarded approximately 233 scholarships – more than $715,000 – to women seeking careers in engineering, engineering technology, and computer science.
---
Gates Millennium Scholars Program
Amount: Depends based on need, but is meant to cover full cost of college
Deadline: September 2023
Description: The Gates Millenium Scholars Program is named after Microsoft founder Bill Gates. The highly-selective scholarship program recognizes 300 minority students each year who are seniors in high school and offers funding for the full cost of college attendance. Recipients have excellent academic achievements, as well as community service experience and leadership potential. Support for graduate degrees for continuing Gates Millennium Scholars is offered for a few disciplines including computer science, engineering, mathematics, and science.
---
American Indian Graduate Center Scholarships and Fellowships
Amount: Varies
Deadline: Varies
Description: The AIGC offers scholarships and fellowships for students working at the undergraduate and graduate levels. All applicants must be able to demonstrate their tribal affiliation by submitting a Tribal Eligibility Certificate. Applicants must be working on a full-time degree at a nationally or regionally accredited higher education institution in the United States, and must be able to demonstrate financial need.
---
Amount: $10,000
Deadline: Late April 2023
Description: The Generation Google Scholarship seeks to make information more universally accessible by supporting students from underrepresented groups. Applicants must be planning to enroll in or be currently enrolled in undergraduate or graduate school in the fields of computer science or computer engineering. Applicants must also be from an underrepresented group in computer science (African American, Hispanic, American Indian, Female, or a person with a disability).
---
Blacks at Microsoft (BAM) Scholarships
Amount: $2,500 one-time scholarships or $20,000 distributed over four years
Deadline: March 15, 2023
Description: The BAM Scholarships are dedicated to supporting the career development of African-Americans in science, technology, engineering, and mathematics (STEM) related fields. Applicants to the BAM Scholarship Program must be high school seniors with a GPA of 3.3 or higher seeking to pursue a STEM-related field at a four-year college. Scholarship recipients who continue to meet the scholarship criteria are eligible to renew the award for up to four years.
---
The Jackie Robinson Foundation Scholarship
Amount: Up to $30,000 over four years
Deadline: Application period opens September 2023
Description: The JRF Scholarship Program is eligible to minority students who are high school seniors and demonstrate leadership potential, a commitment to community service, and have financial need.  A minimum SAT score of 1000 or ACT score of 21 is required to be eligible for this award.  In addition to providing financial support, the program offers career development programs throughout the student's undergraduate career, as well as the opportunity to attend an annual leadership conference for JRF scholars.
---
Amount: $40,000 over four years
Deadline: Application opens September 2023
Description: The Ron Brown Scholarship honors the legacy of Ronald H. Brown by offering scholarships to advance the education of smart and community-minded African Americans. This selective scholarship offers a four-year $40,000 scholarship — $10,000 each year – to future college students. Applicants must be graduating high school seniors at the time of application and the scholarship is not limited to any specific field or career objective.